Dead minke whale washed up on Magilligan Point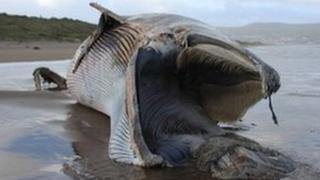 A nine-metre (29ft) long minke whale has been found dead on a County Londonderry beach.
The whale was discovered at Magilligan Point, close to the Ministry of Defence's (MoD) firing ranges on Tuesday.
A spokesman for the MoD said it had taken "all appropriate actions" and had liaised with HM Coastguard and Limavady Borough Council.
Plans are now under way to safely dispose of the whale's carcass.
Pádraig Whooley from the Irish Whale and Dolphin Group confirmed that the animal was a minke whale and said they are frequently spotted around Ireland.
"The minke whale is Ireland's smallest and most commonly-recorded whale species. In the past week there have been a series of sightings of minke whales off the Bloody Foreland area of Donegal that have been reported to us.
"This species is also being reported with increased frequency off the Antrim and Down coast," he said.
Limavady Borough Council said their technical services staff were assisting the MoD and the coastguard with the removal of the carcass, after fears that it could drift into the Foyle estuary and become a shipping hazard.
This is the third time in the past three months that a whale has become stranded on a beach in Northern Ireland.