Londonderry men caught transporting pipe bomb jailed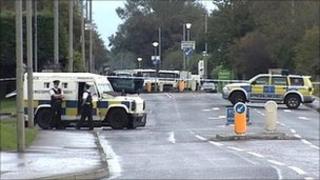 Three Londonderry men caught with a pipe bomb in a car have been jailed.
Eugene McLoone, 56, Abercorn Road, and Daniel Martin Joseph Doyle, 48, Bluebellhill Gardens, pleaded guilty.
Eamon Terence Cassidy, 51, Glenfada Park, had previously pleaded guilty.
Cassidy was given four years in jail and four on licence; McLoone three and a half years in jail and three and a half years on licence and Doyle three years and nine months in jail and the same on licence.
Belfast Crown Court heard that police stopped a car on Buncrana Road in Derry and discovered the bomb under the front seat, wrapped in a dark tracksuit top.
The court also heard that McLoone was the owner of the car and was driving it at the time of the search, and Cassidy and Doyle were passengers in the car.
After they were arrested, two of the men initially claimed that they knew nothing about the device.
However, the court heard that Cassidy told detectives that he found the bomb in the middle of Elagh Road while he was out for a walk.
He had picked it up and wrapped it in his tracksuit top because he did not want children to be injured.
Cassidy had also claimed that he was on his way to report the bomb to a local priest at a parochial house when he was given a lift in McLoone's car.
Following Cassidy's arrest, police took a DNA sample from him, which was later matched to a sample recovered from a bomb found in Bishop Street in Derry in March 2011.
In April 2013, Cassidy pleaded guilty to possessing the Bishop Street bomb and the bomb found on Buncrana Road.
Sentencing the three men, the judge said: "I have taken into account all the factors and I don't think any of you satisfy a test for dangerousness.
"All three of you are vulnerable individuals, all three of you are suggestible individuals and easily persuaded by others to act in the way that you have done."