Assembly members pay tribute to Fr Alec Reid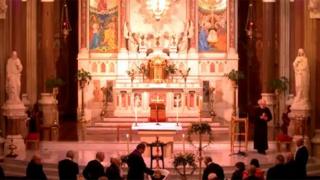 Assembly members have been paying tribute to Fr Alec Reid's role in the Northern Ireland peace process.
Fr Reid, 82, died in a Dublin hospital on Friday. His remains have been brought to Clonard monastery, his home in west Belfast during the Troubles.
Deputy First Minister Martin McGuinness said Fr Reid was "Ireland's greatest peacemaker" and "a visionary".
"We all need to realise that we are only here because of him," said the Sinn Féin MLA.
Fr Reid was a key figure in the Northern Ireland peace process, acting as a go-between with the IRA and politicians.
His body is lying in repose at Clonard Church, and his funeral will take place on Wednesday after Requiem Mass.
DUP MLA Sammy Douglas told the assembly he had met Fr Reid a number of times and had found him to be "a man of incredible integrity".
A number of speakers referred to one of the starkest images of the Troubles, when Fr Reid was pictured in 1988 praying over the bodies of Army corporals Derek Wood and David Howes, who were dragged from their car, beaten and shot by the IRA after inadvertently driving into the midst of a republican funeral.
SDLP MLA Alex Attwood said: "He brought Christian witness to places of violent conflict."
UUP leader Mike Nesbitt acknowledged "the huge sense of loss within the community, particularly for the family that is nationalist/republican west Belfast".
He said Fr Reid had made comments that were not acceptable to unionists, but he had apologised for them.
Alliance leader David Ford said Fr Reid had played an "absolutely courageous and pivotal role" in the peace process. John McCallister of NI21 also paid tribute to Fr Reid.
The priest secretly acted as a conduit between the republican movement and the SDLP.
He was one of the witnesses who confirmed the decommissioning of IRA weapons in 2005.
A member of the Redemptorist Order, in recent years, Fr Reid was involved in talks with Basque nationalists seeking independence from Spain.