Michaella McCollum and Melissa Reid sentencing postponed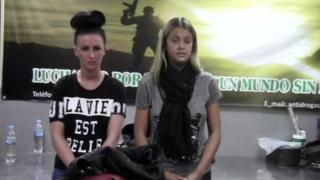 The sentencing of two women who pleaded guilty to trying to smuggle cocaine out of Peru in August has been postponed.
Michaela McCollum, from Dungannon, County Tyrone, and Melissa Reid, from Lenzie near Glasgow, both 20, admitted trying to smuggle cocaine worth £1.5m.
Prosecutors demanded more information on the gang the women said had coerced them into trying to smuggle the drugs.
The women were due to be sentenced on Tuesday but judges are on strike. No new date has been set.
It had been believed that the guilty pleas would speed the women's release but prosecutors said they needed a full account including names and addresses of gang members before leniency could be considered.
The minimum sentence following their plea is more than six and a half years but would have been up to 15 years if they had been found guilty following an innocent plea.
The women are each alleged to have been carrying almost 6kg of cocaine in their luggage.
They were stopped and searched at Lima's international airport where the cocaine was found hidden inside packages of food. .
Police said they had been due to fly to Madrid, then onto Majorca.