Pride of Ardoyne bandsmen not guilty of parade breach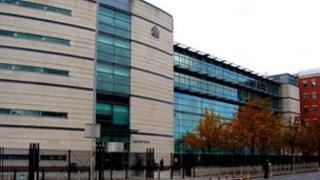 Two flute band drummers have been cleared of knowingly breaching parading restrictions outside a Catholic church in north Belfast.
Michael Cosby and Richard Dunn had been accused of playing a tune as they passed St Patrick's church in an act of defiance at the conditions imposed.
The pair, both members of the Pride of Ardoyne band, said they were unaware only a single drum beat was allowed on the contentious stretch of their route.
The charge against both was dismissed.
Eyesight and reading limitations formed part of their defence case at Belfast Magistrates' Court.
Mr Cosby, 51, of Wheatfield Drive, and Mr Dunn, 26, from Alliance Road - both in Belfast - were alleged to have knowingly failed to comply with a Parades Commission determination in August last year.
Warning signs
The alleged breach was said to have occurred as their band made its way along Donegall Street into the city centre during the Royal Black Institution parade.
The court heard police had put signs along the route and on PSNI vehicles, warning of the restriction.
Despite this, the band appeared to be playing The Dambusters tune as it passed the chapel.
CCTV footage of the incident also showed protesters holding a banner reading: "Respect St Patrick's Church".
A prosecution lawyer said that band members should have realised from the signs and counter-demonstration that it was not an ordinary situation.
The lawyer said that some others in the band and following the parade were pumping fists in the air in "a concerted act of defiance".
Vision problems
But both men insisted they were never told of the single drum beat condition and did not see the police notifications.
Mr Cosby, a bass drummer who has been in the band for 35 years, told the court he only has vision in one eye.
Mr Dunn, a side drummer who joined Pride of Ardoyne 21 years ago, said his focus was on his two children parading directly in front of him.
His limited reading abilities were also cited in court.
After hearing all the evidence in the case, the judge studied the CCTV footage before reaching her verdict.
She declared them not guilty and the case against them was dismissed.