Pat Buckley sham marriage suspended jail sentence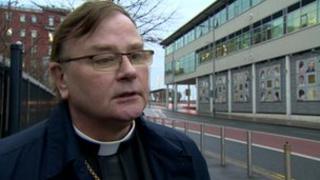 An independent bishop who admitted involvement in sham marriages has been given a suspended jail sentence because he is being treated for medical issues including HIV.
Pat Buckley, 61, was "an important cog in the wheel" of the conspiracy to flout immigration laws, the judge said.
Buckley, of Princes Gardens, Larne, was given a three and a half year jail sentence, suspended for three years.
He pleaded guilty last week to 14 charges of conspiracy to defraud.
Sentencing him, the judge told him: "What you did was wrong. You committed a series of serious crimes which you did for a financial reward."
The judge said Buckley had "lost face and standing in the community".
"Nothing can disguise the fact that you, as someone who professed to be a man of God and who should have been setting an example to others of how to behave, let yourself down, let your ministry down and betrayed the trust of all those to whom you should have been providing leadership and guidance.
"The loss of your reputation is bound to have hit you hard."
During his trial, the court heard that Buckley was neither an instigator nor a profiteer of the scam.
Belfast Crown Court heard he had allowed his naivety in thinking he was helping others, to blind him from the fact that what he was doing was wrong.
An organised crime detective said the sentencing marked the culmination of an investigation that "spanned three continents and has lasted over four years".
"This investigation uncovered the systematic abuse of the EU immigration system in which criminals, some from a professional background, provided false documentation for work permits," said Det Supt Andrea McMullan.
Speaking after his sentencing, Buckley said he felt a "strong sense of compassion for those who must live outside the EU in profound poverty and appalling circumstances".
"I am glad that the judge and the prosecution accept that I have provided solace to the outcasts and that my door is always open to the downtrodden.
"I am sorry for allowing my compassion to bring me to the point of breaking the law - the laws that our society agree upon.
"I did not intend to offend my fellow citizens, but I accept that I have, and again for that I want to say that I am sorry."