NI state papers: Paisley wanted 'Pope and King Billy' painting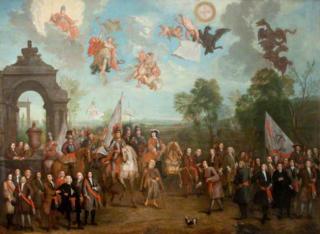 During the term of the Northern Ireland Assembly in 1983 the DUP leader, the Rev Ian Paisley, requested that a controversial picture depicting "King Billy and the Pope" should be displayed in his room at Stormont, newly released state papers reveal.
The large oil painting by the Dutch artist, Pieter van der Meulen, perhaps wrongly entitled The Entry Of King William To Ireland, had been acquired by the Unionist government in the 1930s and placed in the Great Hall of Stormont.
The painting caused some concern among MPs because in one corner, above King William III, was a "Popish" figure with a papal tiara, apparently bestowing a Benediction.
However, in May 1933 it was attacked by a party of Scottish loyalists. Before the sergeant at arms could intervene, Glasgow councillor Charles Forrest threw a pot of red paint at the painting while a colleague, Mrs Radcliffe from the Scottish Protestant League, stabbed the canvas with a knife. Apart from the paint stains, the main damage was to the figure of the Duke of Schomberg's horse!
By the 1980s the painting was hanging in the Public Record Office in Belfast's Balmoral Avenue. In May 1983 the Northern Ireland Office (NIO) learned that Dr Paisley was the "prime mover" in a request to have the painting returned to Stormont after 50 years.
On 3 May 1983 H Coote, an official at the Stormont central secretariat, informed a colleague: "Seemingly, Mr Paisley is keen to have it in his room at Stormont."
Coote felt that Dr Paisley should have his wish as "the mere fact of it displayed in Mr Paisley's room would accord the picture an acceptability which it may not have heretofore enjoyed".
He added: "I would have thought the painting, depicting as it does, the Pope and King William III, had a decided ecumenical flavour and was scarcely likely to be embraced as a true 'Orange' work of art." He felt that it "would be more trouble than it was worth to refuse Dr Paisley's request".
The controversial painting now hangs outside the office of the Speaker of the NI Assembly, Donegal man William Hay, at Stormont.