NI state papers: Sinn Féin problems at press conferences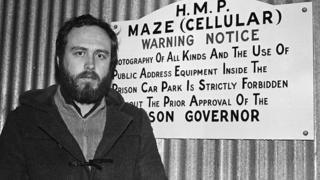 The decision to marginalise Sinn Féin in 1983 created problems at British government press conferences, newly released state papers reveal.
A note from an NIO official, David Gilliland, to a colleague, Pat Carvill on 7 September, 1983 referred to a request from Sinn Féin for press releases to be sent to them.
Outlining the background to the issue, Mr Gilliland explained that after his appointment as secretary of state in 1979, Humphrey Atkins had given a press conference at Stormont Castle.
"Among the people who turned up was Mr Danny Morrison (of Sinn Féin)which caused the police some slight concern," he said.
"I therefore spoke to Mr Morrison and asked if he was a journalist. Morrison said he was, showing he was a member of the Sheffield branch of the NUJ! That being so, I could see no grounds on which to exclude him."
Press releases
Mr Morrison - later director of publicity for Sinn Féin and now a writer - subsequently asked that press releases would be sent to him as a journalist on Republican News. He had been receiving them since, Mr Gilliland explained.
Similar material was sent to Sinn Féin headquarters. This dated back a few years to a period when "deliberate efforts were being made to encourage Sinn Féin to become more political".
The official felt that to withdraw these limited facilities now might well prove counter-productive.
In a reply, S A Marsh of the NIO reported that the parliamentary under-secretary, John Patten, MP had decided, "albeit with some reluctance" to endorse this policy.
However, he felt that the agreement of the secretary of state should be sought also.