The potential £11bn goldmine on the Irish border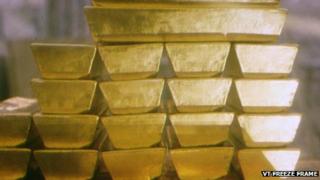 In a barn that stands like a draughty library near Clontibret, County Monaghan, stand towering shelves of cylindrical rock.
They are a testament to 16 years of optimistic exploration, and the tireless enthusiasm of one man in his quest to find gold.
Prof Richard Conroy, once an Irish senator and the man behind many of Ireland's hugely successful zinc mines, smiles broadly.
"We are very excited. It really is a very major discovery, a 30-mile gold trend," he said.
"We had no idea it was going to be as big as this. We did hope it would be big but we didn't expect it to be as big as it turned out to be."
There has been mining in the Irish border region across counties Armagh and Monaghan for centuries, but the most precious metals were missed.
Drawing sparks from rock at one of the old workings by the side of a fast-flowing river, senior geologist Kevin McNulty explains why.
"They didn't realise that there was gold here at all. It was mined in the late 1700s," he said.
"They were mining for antimony (the metal used to manufacture bullets), and they drove straight through the gold and they threw that away as waste."
'Excited'
For decades, a huge amount of scepticism has been attached to the hardy dreamers who were convinced the gold existed.
However, the results of a six-year air and ground survey carried out by the geological survey on both sides of the Irish border have now confirmed its existence.
Extracting it is another matter entirely, but Ireland's Minister for Energy Fergus O'Dowd, is very keen to attract more exploration companies, and to sell off licence areas.
"I'm excited about it because it's great to look at a map and say good grief, look at that, there might be gold there," he said.
"The reality is it will bring more jobs, we now have greater knowledge of where our mineral wealth may be or where you can exploit to try and see is there more opportunity there commercially."
The gold deposits do not glisten in great lumps from the rock face. Rather they are dispersed in tiny fragments throughout the cylinders of stone, cored from the ground.
To retrieve it the rock must be ground to dust and a chemical extraction process employed to sift the precious metal from the dust.
Gold trends
The cost of exploiting the gold is almost half of its worth, and not all of the metal can be accessed.
However, if even a tiny proportion of what is believed to be there is gathered, its potential value is staggering.
"An estimate at this stage might be somewhere in the region of 15m to 20m ounces of gold," says Prof Conroy. That would put the value of the resource in his licence area alone at £11bn (13.2bn euros).
There are other working mines in Northern Ireland. The Canadian company, Dalradian, has an operation in the Omagh area of County Tyrone, and the Tellus survey has established a number of other significant gold trends across the country.
"It has taken us many years," says Prof Conroy, "as significant exploration does tend to take.
"But it's great now to be at the stage when you can begin to think about bringing in a mine and pouring gold."