Liam Adams to appeal against rape conviction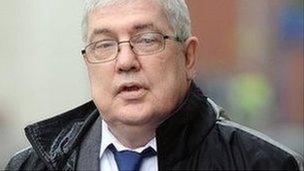 Liam Adams, a brother of Sinn Féin's Gerry Adams, is to appeal against his conviction and sentence for raping and abusing his daughter, it has emerged.
Adams, 58, from Bernagh Drive, Belfast, was convicted in October of 10 offences against his daughter, Áine, who waived her right to anonymity.
He was sentenced to 16 years in prison but will receive an automatic 50% remission.
No date has been set for the appeal which was lodged on 23 December.
The abuse was committed over a six-year period between 1977 and 1983 when his daughter was aged between four and nine.
Liam Adams consistently denied the charges throughout a two-week trial.
However, a jury of nine men and three women convicted Adams on all charges, following four hours of deliberation, with a majority verdict of eleven to one.
This was his second trial. The first trial collapsed in April for legal reasons.