PSNI added to lawsuit over Loughgall IRA deaths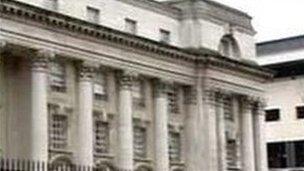 A civil action against the Ministry of Defence over the SAS killings of eight IRA men has widened to include police.
Relatives suing over the shootings in Loughgall, County Armagh, in 1987 were granted High Court permission to add the Chief Constable as a defendant.
Undercover soldiers killed the eight IRA men as they approached Loughgall police station with a bomb in a hijacked digger.
The ambush inflicted the IRA's largest loss of life during the conflict.
The IRA men shot were: Jim Lynagh, Padraig McKearney, Gerard O'Callaghan, Tony Gormley, Eugene Kelly, Patrick Kelly, Seamus Donnelly and Declan Arthurs.
A civilian, Anthony Hughes, was also killed and his brother badly wounded when they were caught up in the gunfire.
Lawyers representing the families of some of the IRA men who died claim the killings were unlawful.
With the Royal Ulster Constabulary's Mobile Support Unit also believed to have played a role in the operation, the families returned to court in a bid to have the force's successor joined to the action.
An application was brought in the name of Declan Arthurs' father Patrick.
It was argued that a report into the ambush referred to it as an SAS/RUC operation throughout.
The court ordered that the Chief Constable of the Police Service of Northern Ireland, as successor in title to the Chief Constable of the RUC, be added as a defendant in the action.
Outside the court Mr Arthurs' solicitor said: "This is important not just for the Loughgall families in their long-running campaign for justice, but on a wider front it's very significant for legacy litigation generally.
"It confirms that, despite the lengthy passage of time, if the state has material or information which has never previously been disclosed it still allows individuals to take cases even though that information isn't made known for many years."
He added: "We will now amend the pleadings to join the police in this action. The full hearing will not take place until later this year."