Wreck of 19thC schooner Sunbeam laid bare on Kerry beach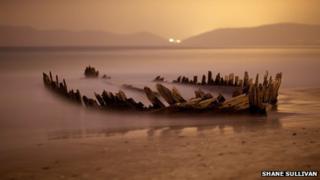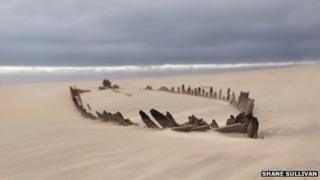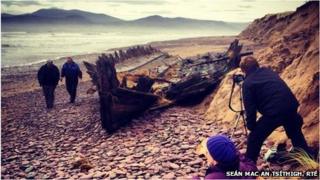 The 19th Century schooner Sunbeam was washed ashore on the coast of County Kerry more than 100 years ago with no loss of life.
The skeletal ribs of the old boat jutted dramatically out of the sands of Rossbeigh Strand for over a century.
There was a hint of a whispered secret about the lost boat that lay just beneath the waves.
But a recent storm laid bare the wreck for all to see. The old boat has been washed up into the sand dunes.
Now Michael Herrmann, chair of the South Kerry Camera Club, wants the ruins to be removed and taken to the county museum, lest the elements destroy all that remains of the Sunbeam.
"We were there on the beach last year with the camera club and it was a fine evening," he said.
"The wreck is on a long finger stretch of the beach and it is a good 20-minute walk to get to it. You have to make a bit of an effort, but it is absolutely well worth it."
"It was terribly battered by the storm on Monday and was washed up the beach. It looks terrible. Since it has been exposed, it could be very quickly destroyed. The water had protected it to some degree," he said.
"It would be a good idea to bring it to the county museum."
The wreck of the Sunbeam has always drawn photographers and camera clubs. It has been one of the most photographed features on the Kerry beach for generations. There is a hint of romance about the ruins of a lost boat.
This schooner was built in the 1860s in Exmouth and in 1870 was bought by Richard Kearon of Arklow, County Wicklow.
It sank on the Kerry coast on 28 January 1903.
It is understood that the National Monuments Service in the Republic of Ireland is moving to protect the shipwreck from souvenir hunters after it was washed up.
Shipwrecks of more than 100 years are protected by the Irish National Monuments Act.