Sinn Féin formally backs Haass proposals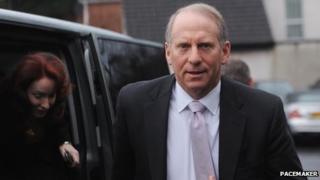 Sinn Féin's ruling executive has formally backed the Haass proposals on parades, flags, and the past.
The negotiations, chaired by former US diplomat Richard Haass, ended on New Year's Eve without agreement.
On Friday, DUP leader Peter Robinson said the Haass plan was unbalanced and required further work.
Sinn Féin and the SDLP have endorsed the proposals, but the DUP, UUP and Alliance have, so far, rejected elements of the Haass blueprint.
'Compromise position'
On Saturday in Dublin, Sinn Féin's ard chomhairle (national executive) agreed its response to the proposals.
Afterwards, Sinn Féin President Gerry Adams said the proposals were "a compromise position".
He said his party "would like to have seen some aspects of the document strengthened and improved further" but he added that agreement on everything - particularly flags - was not possible.
"Sinn Féin has little confidence that the proposed Commission on Identity, Culture and Tradition will resolve these issues," Mr Adams said.
In relation to the past, the Sinn Féin president said the Haass document had made "considerable advances" on prioritising needs of victims, which he said "must be central to any proposals".
Call to governments
Regarding parades, Mr Adams said: "In the absence of dialogue or a failure to reach agreement over contentious parades there is an obvious requirement for a robust regulatory body.
"We believe that the Haass proposals meet that demand."
The party has called on the British and Irish governments to work with parties towards their implementation of the Haass plan.
Deputy First Minister Martin McGuinness said: "We need to hear David Cameron say he supports the Haass proposals, we need to hear the taoiseach (Irish prime minister) say he supports the Haass proposals and, hopefully, we will hear the president of the united States or the White House make it clear that they support the Haass proposals.
"One thing is absolutely clear. Richard Haass is telling the five parties in the north he wants to see the text of his seventh draft implemented."
Sinn Féin met a day after Mr Robinson said unionists needed to reach agreement with nationalists, not with Richard Haass.
'Blame game'
Mr Robinson was responding to remarks made by Dr Haass in an interview with the BBC, in which he said the parties who did not back his draft proposals must "defend their positions".
Sinn Féin's Martin McGuinness said it was "make your mind up time".
Speaking on Friday, Mr McGuinness said Dr Haass and co-chair Prof Meghan O'Sullivan had done a "fantastic job".
The deputy first minister said he did not "intend to get involved in the blame game", but it was now a time for all parties to show leadership.
The leaders of the five main parties at Stormont are due to meet next week to discuss the way ahead.