Newtownabbey theatre: Bible play cancelled after council row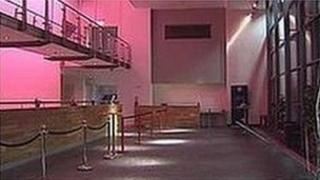 A play that was due to open in the Theatre at the Mill in Newtownabbey, County Antrim, has been cancelled, following claims it was blasphemous.
The Bible: The Complete Word of God (Abridged) was due to open on Wednesday, 29 January, for two nights.
Some councillors had called for the show, presented by the Reduced Shakespeare Company, to be stopped.
A notice on the theatre's website said the show had been cancelled and apologised for any inconvenience.
There was heated discussion at Newtownabbey Council's policy and governance committee on Monday.
'Great regret'
It had been due for discussion at the council's monthly meeting next Monday when opponents were to make a final attempt to have the play pulled.
However, in a statement on Thursday, Newtownabbey Borough Council said: "The council's artistic board held an away day on Wednesday 22 January 2014, to plan and develop a strategy for the council's future arts programme.
"During the day, next week's performance of The Bible: The Complete Word of God (Abridged) was discussed by the board.
"Subsequently, the chair of the council's artistic board, Councillor Billy Webb, has written to the council's chief executive, to confirm that with great regret, the board has taken the decision to cancel next week's production.
"In taking this decision, the board wishes to confirm its commitment to deliver on the agreed council's artistic policy to deliver the highest quality performing arts programme, offering a diverse, socially relevant and enriching experience to as many citizens as possible."
Sinn Féin councillor Gerry O'Reilly described the decision to cancel the play as the "worse type of censorship".
"This is clearly an example of certain councillors forcing their religious views onto everyone else in the constituency," he said.
"What the councillors are basically saying is that they can dictate what type of dramas people can view."
NI21 leader Basil McCrea said: "This is a very regrettable decision - there are certain basic rights which modern western democracies guarantee for their citizens.
"One is freedom of religion and another is freedom of speech."