Obituary: Jack Kyle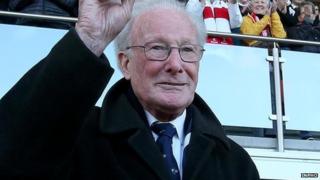 Jack Kyle will be remembered as one of Ireland's greatest ever rugby players.
The man nicknamed Ghost and Scarlet Pimpernel left a lasting impression on all who saw him play, and also stamped his indelible mark on the record books.
But for the people of Chingola in Zambia, "Dr Kyle" was the man who tended to their sick and saved thousands of lives for more than 30 years, far removed from the glamour of his sporting life.
And not surprisingly, given where he spent most of his working life, Kyle was an enduringly modest and grounded man.
John Wilson Kyle was born in Belfast on 10 January 1926, and was educated at Belfast Royal Academy before studying medicine at Queen's University Belfast.
He graduated in 1951 and went into practice as a GP in Belfast.
World record
In rugby union, though, this was the era of the gifted amateur, and out-half Kyle was more gifted than most.
He made his international debut against France in January 1947 while a student at Queen's, and went on to win 52 international caps (46 for Ireland and six for the British and Irish Lions), which at the time was a world record.
He played in Irish sides that won a Five Nations Grand Slam in 1948, a Triple Crown (wins over England, Scotland and Wales) in 1949, and a championship in 1951.
Arguably the peak of his career came during the Lions tour of New Zealand and Australia in 1950. He played in 19 tour matches, including all six Tests, and afterwards was voted one of the top six players in the world by the NZ Rugby Almanac.
Karl Mullen, captain of both Ireland and the 1950 Lions, said of Kyle's influence on the tour: "There would have been no tour without Jack Kyle."
His last Irish appearance was against Scotland in March 1958, though he continued to play club rugby with the North of Ireland club in Belfast.
But bare statistics alone do no justice to Kyle's magic as a player.
'Beautifully balanced'
He made a lasting impact on the late Cliff Morgan after the legendary Wales and Lions out-half - and also a playing contemporary of Kyle - saw him play for the Barbarians.
Morgan said: "He was so beautifully balanced and had this gift of lulling opposition into a false sense of security. You'd think he was doing nothing, and yet in an instant he'd pull the ball back, and there he was in a position to score or make a try."
And famously, the Irish Independent wrote of Kyle in 1953 after Ireland had played France:
"They seek him here, they seek him there,
Those Frenchies seek him everywhere.
That paragon of pace and guile,
That damned elusive Jackie Kyle."
Kyle was awarded an OBE in 1959, and in 1962 he went to work on a humanitarian project in Indonesia.
After returning to Northern Ireland he took up his position in Chingola in 1966, and remained there until his retirement in 2000.
Sadly, the time in Africa cost him his marriage as he divorced wife Shirley, with whom he had two children, Caleb and Justine.
His work in Africa was honoured with an honorary doctorate from Queen's University in 1991, and a lifetime achievement award by the Irish Journal of Medical Science and the Royal Academy of Medicine of Ireland.
Hall of fame
On his return to Northern Ireland he settled in Bryansford at the foot of the Mourne Mountains in County Down.
In 2002 he was voted the greatest ever Irish player in a poll by the Irish Rugby Football Union (IRFU).
Six years later, he was inducted into the IRB (International Rugby Board) hall of fame.
And in 2009 he was in Cardiff when Ireland ended a 61-year wait for a second Grand Slam.
A memorable photograph of him congratulating Brian O'Driscoll, perhaps Kyle's only rival as Ireland's greatest player, was a symbolic passing of the torch.
As a player Kyle had the gift of time on a rugby pitch. As a man, he gave the gift of his time to any and all he met.
Perhaps the greatest tribute to Kyle was paid to him by another Ireland and Lions legend, Willie John McBride: "We talk about gentleman, I could not sum that word up any better than saying - give me Jack Kyle."