Bill of rights to improve European cancer survival rates launched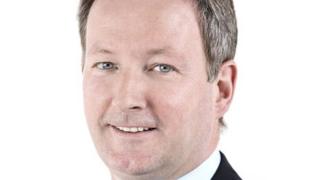 A world-renowned cancer specialist from Queen's University in Belfast is leading the fight to improve cancer survival rates in Europe.
Prof Patrick Johnston's work culminates later with the launch of a European Cancer Patient's Bill of Rights.
It aims to address the disparities that currently exist in cancer care from one European country to the next.
The launch, at the European Parliament in Strasbourg, coincides with World Cancer Day.
Prof Johnston is the dean of the School of Medicine, Dentistry and Biomedical Sciences at Queen's University, and has been at the forefront of cancer research for the past 25 years.
The bill of rights is the result of two years' work by the European Cancer Concord (ECC).
Prof Johnston co-chairs the ECC, which involves 17 European countries and represents more than 1,000 national organisations and millions of cancer patients and survivors.
'Pioneering work'
Under his leadership, cancer survival rates in Northern Ireland have moved from the bottom of the UK league table to near the top.
He said: "In Northern Ireland we have seen the difference that a comprehensive cancer care and research programme can have on patient outcomes.
"Previously, Northern Ireland was sitting at the bottom of the UK table for cancer survival rates and thanks to pioneering work at Queen's, in association with the health service, we're now close to the top.
"This bill of rights aims to set a standard that all European countries can aspire to, ensuring that all citizens are entitled to the optimum cancer care regardless of where in Europe they live."
The bill of rights is underpinned by three key principles:
the right of every European citizen to receive accurate information and be involved in their own care;
the right of every European citizen to access specialised cancer care underpinned by research and innovation;
the right of every European citizen to cost-effective health systems that ensure optimum cancer outcomes.