Neknomination drinking game 'highly dangerous', says PHA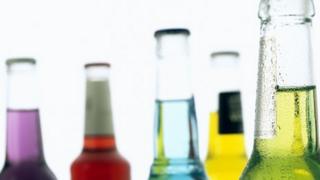 A Northern Ireland health body has condemned an internet drinking game as "highly dangerous".
The Public Health Agency (PHA) spoke out after the death of 19-year-old Jonny Byrne in the Republic of Ireland.
His family said he had been playing the game known as 'NekNomination', in which people are encouraged to drink alcohol before posting a video online.
The Pubs of Ulster, the professional body for the NI retail licensed trade, also condemned the practice.
The PHA said: "Peer pressure can be a very powerful thing, and people can get caught up in it.
"Social media has increased the effect of peer pressure, and we need to try to harness this in a positive way, using the media to reinforce messages about the risks of drinking, and how important it is to look after your friends.
'Drink responsibly'
"NekNomination can be a highly dangerous practice. Real friends don't 'NekNominate'. You have the right to say 'no'. Join the thousands of others who are standing up against this 'game'."
Colin O'Neill, chief executive of Pubs of Ulster, said: "This craze must be condemned in the strongest possible terms.
"Alcohol is a regulated substance for good reason and we strongly encourage people to drink responsibly and not to pressurise friends and peers into downing crazy amounts of alcohol.
"Pubs of Ulster would encourage all of its members to make sure this practice does not pervade the safe atmosphere that the pub industry has worked hard to cultivate in Northern Ireland."
Duncan McCausland, chair of the independent panel on the responsible retailing and promotion of alcohol, added: "It is imperative that we take a zero-tolerance approach to harmful drinking practices.
"Whilst many of these dares do not take place on licensed premises, it is important for the licensed trade to make it clear that such dares will not be tolerated in their pubs and clubs."
'Peer pressure'
The Union of Students in Ireland (USI) has also warned young people of the dangers of taking part and the impact this may have on other people.
USI president Joe O'Connor told Irish state broadcaster RTÉ: "One of the big dangers that we're seeing associated with this is not just the impact on the individual or the group taking part but on younger children who may be on social media - vulnerable people who wouldn't normally find themselves in this situation.
"We're asking people to think about the impact or influence it may have on them, particularly as a result of the tragic events we've seen in the last 48 hours.
"There's a huge amount of peer pressure involved. It can lead to cyberbullying and online shaming of people who do not take part, and that's certainly been a factor as to why it has escalated."