Bruce Springsteen: Armagh man pipes himself into rock history with the Boss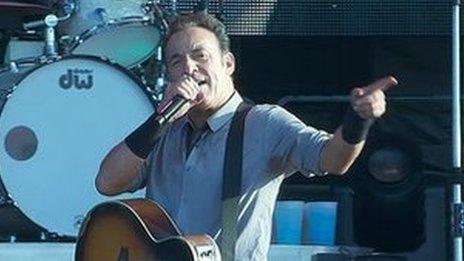 Cillian Vallely has been surrounded by music since the day he was born.
His father, mother and brothers are all well-known musicians and performers who have travelled the world, working tirelessly to bring traditional music, particularly the uilleann pipes, to wider and wider audiences.
But surely, in their wildest dreams, the Armagh family couldn't have envisaged taking the pipes all the way to a record-breaking spot at the top of the Billboard Charts?
It all began just over a year ago when Cillian, who now lives in New York, received a phone call at his apartment.
He explained: "It was somebody I didn't know asking if I would be available in the next day or two to do some recording.
"The guy was called Kurt. I just thought it was his record.
"He asked me a few questions about the keys I could play in on the whistles and the pipes and so on. And then he says 'I'll have the producer call you'."
A whole series of phone calls followed - from producers, agents and managers.
Eventually, a curious Cillian asked one of the callers: "Who exactly am I going to be recording with?"
When the caller answered "Bruce Springsteen", Cillian was so taken aback he initially thought it was a joke.
But it was no joke. Within days, he found himself in Springsteen's New Jersey home, laying down tracks under the watchful eyes of yet more producers and managers.
The man himself, in true elusive rock legend fashion, was nowhere to be seen.
"It was an interesting experience," said Cillian. "They made me sign a non-disclosure agreement so I couldn't tell anybody.
"But I suppose one part of me was thinking 'what if it never appears?' And I did read that he recorded 20-something tracks."
But the track, This is Your Sword, made the cut and Cillian ensured a, perhaps unexpected, place for himself and the uilleann pipes in rock history.
The Armagh man admits that, until only a few years earlier, Springsteen's music had somehow slipped under his radar.
"I knew of him of course - his big hits and such. But we (Lúnasa) were playing at Glastonbury about four or five years ago and he was the headline act and I went over to see him and I thought the show was brilliant and I started taking an interest in him.
"I suppose it was coincidental it was just a while before this came up.
"I loved the show and the level of musicianship in the E Street Band - it was something else."