Belfast's Monuments Man: GI Teddy Dixon recalls retrieving art looted by Nazis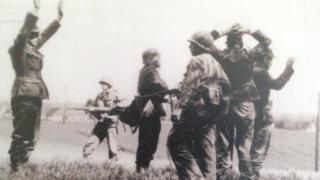 Teddy Dixon could hardly believe his eyes.
The light from his head torch lit up the underground cavern that he and his GI buddies had walked into.
Stacked around the walls were crates and crates of art that had been looted by the Nazis.
It was 1945, near the small Austrian village of Hallein, and Teddy, from Belfast, had been posted there after fighting his way through France and helping to liberate Dachau concentration camp.
Loot
Now he was to be given the most unusual duty of his military career.
He had been called up to the American army because, though he been brought up in Belfast, he had been born in the United States and his name came up in the draft.
He said he and the other men from his squad were simply told that they would be guarding German prisoners of war.
It turned out those prisoners were being sent to retrieve art looted by the Nazis and hidden in the local salt mine.
Every day for two weeks they took the prisoners into the mine, loaded up four small carts and pushed them back up the rails to the mine head.
Now 94, Teddy recalled the first time he saw the treasure.
Curious
"It was fantastic to see all the cases piled up there. We had head lamps on us. They were neatly stacked around the walls, heavily encased in wood," he said.
"They were nearly all square, a couple of oblong ones, there were no marks on them."
The soldiers were naturally curious about what was in the boxes, they had heard the stories about the looted art.
Teddy had an idea.
"I suggested breaking one of them open. Putting one on one of the trolleys and then throwing it off but the boys said no."
On the surface, military policemen took over, loading the art into lorries and taking it back to Salzburg castle for safe-keeping.
Hollywood movie
It seems the officers didn't really trust the men. When they had taken the last of the crates out, one of them went down to double check that nothing had been left behind.
"He went in and surveyed the cave and then came out and said, 'that's it'. And he thanked us for doing a good job."
For years, Teddy never talked about the war. He only told his children about his involvement after his retirement.
His son Jackie, who lives in the US, has been to see the Hollywood movie The Monuments Men.
It tells the story of a special US unit set up to save Europe's stolen art, and Teddy is planning to see the film in Belfast.
"I suppose it'll probably take me right back to that salt mine," he said.
Click here to listen to Conor Macauley's interview with Teddy Dixon.