Appeal over Belfast Man Utd player John Peden's grave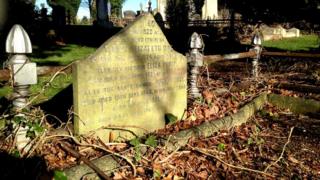 An appeal has been made to restore the grave of Belfast footballer John Peden, who established the first playing connection between Ireland and Manchester United.
In 1893, Peden played for Newton Heath which later became Manchester United.
He died at the age of 81 and was buried in Belfast.
Regarded as the George Best of the 19th Century, the tricky winger from Sandy Row in south Belfast gained 24 Irish international caps.
A campaign has begun to restore his grave at the city cemetery in west Belfast.
Local historian Tom Hartley, a former lord mayor of Belfast, believes the footballer deserves a better resting place.
"I suspect very few people in Belfast know about his grave in the city cemetery. It's a private grave and it may be that his family has moved on, or passed on," he said.
"What I would like to see is some local football club or supporters' club take on the job of looking after the grave, maybe placing a marker there about the life of John Peden and his historical connection to Manchester United."
The club has a long tradition of Irish players - more than 60 in total - from both sides of the border, including Roy Keane, Denis Irwin, Norman Whiteside and George Best.
The current squad includes Belfast-born defender Jonny Evans.
Before moving to Manchester, Peden played in the first Linfield team in 1886. In later life, he became an official at Linfield and served on the Blues' management committee.
During a long career, he also played for Distillery and Sheffield United.
Born on 12 July 1863, he died in September 1944 at the age of 81.
After retiring from football, he ran a sweet shop.