Wheelchair hurling: Disability not a barrier to sport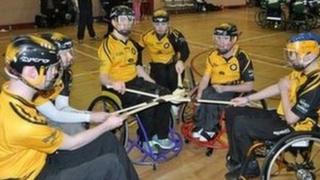 Before Ryan O'Connor had his heart transplant in November 2012, he watched more sport than he played.
The 19-year-old from Dungiven, County Londonderry, suffered complications during his surgery and as a result both his legs were amputated.
Since his recovery, he has developed a new love and passion for sport.
"Now I am very active," he says.
"I have actually got prosthetic legs, but I would use a wheelchair when I'm playing sport."
He first started to play wheelchair basketball and then got into wheelchair hurling, about a month ago.
He says being part of the hurling team was a "great feeling".
"It's a feeling I have never had and now that I can do all these sports, it's the best feeling I've ever had in my life.
"I really enjoy getting out and doing sports. I enjoy helping others, I like working with teams.
"It was a matter of time before I started sport after I became healthy again because it was always in my life. I just wasn't able to do it previously."
Social aspect
Ryan was born with a heart problem and says "they had to do the transplant or I would have died".
Like any team sport, the teenager enjoys the social aspect.
"I've made more friends now because of being active," he says.
"It's been an amazing two years that I have come through so I'm just glad I can get out and meet other people, join teams and help others.
"It's a sport that comes from my home town so it's very good to get out and represent not just the province, but also the town that I come from.
"If it wasn't for the coaches, I wouldn't have been able to get into it," he says.
"I want to keep doing it as much as I can, live life to the full completely, to play all these sports and play new stuff.
"When people have surgery like mine or are in a wheelchair permanently they could think it is the end of the world but it's not, it's actually the start of just something new.
"It's just a different world that you live in. I would just say get out and enjoy yourself. That's just life, you have to get on with it."
Odhrán Doherty is a performance officer with Disability Sport NI.
He says wheelchair hurling was a relatively new sport in Northern Ireland, only starting about six months ago.
"Disability NI has teamed up with the Ulster Gaelic Athletic Association (GAA) and we hope to develop four regional clubs in Northern Ireland - Derry, Fermanagh, Belfast and Mid-Ulster," he says.
Three clubs have been established already and meet up regularly. Some of the players feed into the Ulster squad and play at an inter-provincial level.
Competitive
"We are really at the early stage, we have about 30 players at the minute within the three clubs so hopefully we'll get the Mid-Ulster club up and going within the next few months and hopefully it will grow from there again.
"There is a competitive path at the top level at the minute so we are trying to feed into the four regional clubs to have competitions for them as well."
Like the GAA, wheelchair hurling is an amateur sport.
"They play really for the love of the game. They come from all different backgrounds. Some are from GAA backgrounds, some not," Odhrán says.
"Ryan comes from a GAA background. He would have played when he was younger before his surgery so it's an opportunity for him to rekindle his love for the game of hurling. He has a disability now, but he can still play hurling at a very good level for his province."
Odhrán says the youngest player was four years old and the oldest in their mid-forties. Both boys and girls, men and women, are involved.
"It's a game for everybody. We have equipment here for everyone. We have wheelchairs for young kids, wheelchairs for adults. We are open to everybody from five years right up to 40/45."
Barriers
He says all the players have some sort of physical disability - some cerebral palsy, some forms of spina bifida.
"The biggest barrier to participation in disability sports is access to facilities, access to transport to get the guys there. In a lot of cases they are relying on their parents. If they are an adult, a lot of the time they are confined to their own homes.
"We feel this is an excellent opportunity for them to meet new people, to socialise with people who have the same disabilities they have and are going through the same sorts of issues.
"It's a great opportunity for them to build self-esteem and self-confidence.
"Rather than focusing on their disability, we focus on the ability they have to play the sport. We let them express their skills, let them feel confident in what they are doing."
Disability Sports NI and Ulster GAA have developed a three-year plan to develop Gaelic games for people with disabilities, targeting areas including coach development, wheelchair hurling, learning disability football and access to facilities.