Lord Ballyedmond: Edward Haughey agrees path to resolve Killowen dispute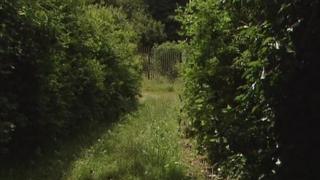 Northern Ireland's richest man is to construct a new coastal pathway as part of a settlement reached in a legal battle over right of way on his land.
Lord Ballyedmond has agreed to the "gesture of goodwill" to ensure the public has an alternative access to a County Down beach.
It brings to an end long-running High Court proceedings.
The dispute centred on a laneway on the industrialist's estate, beside Killowen beach.
A trial of his case against Newry and Mourne District Council was due to get under way in days.
Lord Ballyedmond, also known as Dr Edward Haughey, is head of leading veterinary pharmaceuticals company Norbrook Laboratories.
He had been seeking a ruling that the stretch of land is private.
The council, however, wanted a determination that the route should be open to the public.
Lord Ballyedmond previously secured an injunction preventing access to the laneway until the case was dealt with.
It was granted after concerns were raised about any alleged trespassers coming close to sensitive research facilities.
Earlier this week his lawyers were still pressing ahead with their action.
They argued that the council had no legal authority for declaring a public right of way on his land.
Big Moat
However, in court on Wednesday his senior counsel revealed that a settlement had now been reached.
He told the judge: "Without prejudice to the council's assertion of a public right of way and/or the merits of the respective proceedings, the parties have agreed to make a gesture of goodwill for the sake of the convenience of the public."
It will involve constructing a new coastal pathway to provide another means of public access to the beach as an alternative to the disputed public right of way, the court heard.
The lawyer said the proposed pathway will be adjacent to part of the lands known as the Big Moat.
It is understood that once built by Lord Ballyedmond the council will have responsibility for management of the new route.
Congratulating both sides on reaching a resolution, the judge also said it was regrettable that the local authority had been at odds with the principal employer in the area.