Trio await sentence on bogus loans and mortgages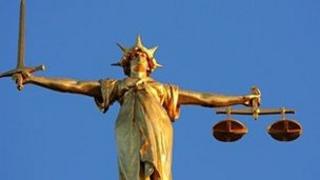 Three men have appeared at Belfast Crown Court for sentencing on charges related to widespread financial fraud linked to bogus loans and mortgages.
The men all held positions of trust in the Newry area of County Down.
They are former First Trust bank manager Peter Creegan, former solicitor Peter Brassil, and ex-financial adviser Damien Pius Mallon.
The crimes were committed from 2002 to 2008, at the height of the property boom.
The court heard that in one transaction alone in 2006, which involved Brassil and Creegan, the amount of money released by the bank via a bogus loan application was £1.276m.
Brassil, 51, from Chancellor's Road, Newry, pleaded guilty to nine offences, namely entering an arrangement to acquire criminal property, false accounting, three counts of theft, fraud by false representation, two counts of conspiracy to obtain a money transfer and fraud by false accounting.
Criminality
Forty-seven-year old Creegan, from Limekiln Road, Newry, admitted 18 offences that include fraud by false representation, seven counts of theft, obtaining services by deception, two counts of fraud by abuse of position, false accounting, removing criminal property, conspiracy to obtain a money transfer and fraud by false accounting.
Damien Pius Mallon, 56, from Drumconwell Road, Armagh, pleaded guilty to seven charges. They are two counts of theft, concealing criminal property, two counts of transferring criminal property, obtaining services by deception and false accounting.
A prosecution lawyer told the court that a core of the criminality involved securing loans which were then used to fund the purchase of a number of properties.
In some cases the name of the loan claimants was made up, while in other cases, loans were granted in the names of entirely innocent and unsuspecting individuals, some of whom held bank accounts at the First Trust's branch in Newry.
The lawyer said the criminality came to light when an internal investigation was launched at the bank, which ultimately led to a police investigation.
Addicted to cocaine
Branding the case against the accused as "complex", the prosecutor said during the period of offending, Creegan's position granted him the authority to approve loans of up to £300,000.
A defence lawyer said that Brassil had lost everything and was "deeply remorseful and ashamed'' of his actions.
She said that since 2002 he had been addicted to cocaine in a bid to cope with his heavy workload and depression, spending £500 a week on the drug.
Ken McMahon QC gave evidence on behalf of Brassil, who he said he had known for "up to 30 years''.
Mr McMahon said: "He is a good person. He has fallen from grace. And he will revert to a good person.
"He will punish himself for the rest of his days for bringing this upon himself and his family.''
Pleas of mitigation will be heard on Friday, 28 February, on behalf of Creegan and Mallon, before Mr Justice Burgess passes sentence.