Ulster Bank: RBS chief executive, Ross McEwan, tries to calm job fears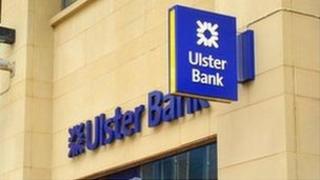 The boss of Ulster Bank's parent company has said there will be "no big announcement" on job losses next week.
Royal Bank of Scotland (RBS), which owns Ulster Bank, publishes results and a strategic review on Thursday.
According to news agency Bloomberg, RBS chief executive Ross McEwan emailed staff to say speculation about job cuts was "frustrating and unsettling".
But a bank workers' union said it was braced for "significant job losses" at the bank.
Larry Broderick of the Irish Bank Officials' Association said: "Significant cuts to the branch network on the island of Ireland have also been mooted in some quarters, along with the outsourcing of more of the support functions based in Dublin and Belfast to Edinburgh and further afield."
The Ulster Bank employs 6,500 in Northern Ireland and the Republic of Ireland.