Éirígí press officer Stephen Murney cleared of terrorism charges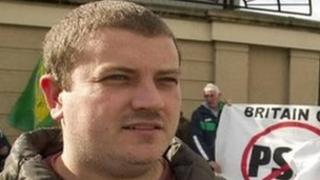 A press officer for the republican party, Éirígí, has been acquitted of a series of terrorism charges.
Stephen Murney faced seven counts of publishing, collecting and possessing information likely to be of use to terrorists.
Mr Murney, 30, of Derrybeg Terrace, Newry, County Down, was accused of publishing photographs of police officers on duty on Facebook.
Afterwards he said his time in custody was "internment on remand".
In her ruling, Judge Corrinne Philpott said: "There is no evidence before this court that Éirígí supports violence, or has argued for violent action to be taken against the police, or that the organisation is directly linked to those that support terrorist activity."
She said: "The prosecution must prove beyond reasonable doubt that the accused possessed information likely to be of use to terrorists and that he had no reasonable excuse for his actions.
"In the view of this court, the prosecution have not discharged that burden to the requisite standard, that is beyond reasonable doubt, and therefore the accused is entitled to an acquittal on all counts."
Protest
During the trial, the prosecution said the photographs of police officers were found on a computer, together with two videos on an iPhone, during a police search of Mr Murney's home in November 2012.
Mr Murney took photographs of police officers in June 2012, as the Olympic torch passed through the city.
He took images of officers who were policing a protest in support of republican prisoners and against searches that were taking place in Maghaberry prison at the time.
Mr Murney was part of this protest and was the press officer for Éirígí, who organised the protest. He later published the images on his Facebook page.
Mr Murney also published photographs in August 2011 and July 2012 of himself being stopped and searched by police, as well as collecting and making a record of the policing of a 12 July parade in Newry, which showed the faces of officers present.
Explosives
During the trial, the court heard that when Mr Murney's home was searched in November 2012, photographs of police officers on duty in Newry and Belfasr were found, along with a minute-long video of a police operation on the A1 where a bus believed to be carrying explosives was stopped and searched.
When asked why he recorded the bus incident, Mr Murney said children were on board the bus and he had been asked by their parents if Éirígí could be of assistance.
He added it was his intention to capture on camera what was happening.
Giving evidence at his trial, Mr Murney denied the photographs and videos were for terrorist purposes, stating he had them to report what was going on, in his role as press officer.
When asked about the images of him being stopped and searched, Mr Murney made the case that he was recording the incidents to show the Committee on the Administration of Justice, as he believed he was being harassed by the PSNI.
Speaking outside the court, Mr Murney vowed to continue his work as a press officer with Éirígí
In a statement, he added: "My imprisonment for the past 14 months was as a direct result of my political views and my membership of Éirígí - an open and legitimate political party."