HGV Road User Levy: Donegal truckers oppose border tax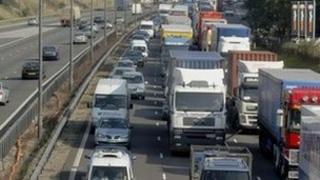 Truck drivers from County Donegal have expressed concern to Stormont MLAs over plans to introduce a new border tariff.
The scheme will mean trucks from the Republic of Ireland and other European countries will have to pay between £85 and £1,000 a year to enter the UK.
The government says it will create a level playing field, as UK truckers have to pay tolls on European roads.
However, the Donegal truckers argued this would have a disproportionate effect on their businesses.
Their campaign is being supported by Sinn Féin MLA Barry McElduff, who said the tariff was "the latest regressive measure being imposed by a Westminster government on our economy".
"As with airport tax and corporation tax, this is just another revenue raising measure for the British Exchequer that gives no return or benefit to the economy of the north of Ireland - in fact they inhibit growth and investment."
Northern Ireland-based hauliers appear largely supportive of the scheme which is backed by the trade body, the Freight Transport Association.
The tariff, which is known as the HGV Road User Levy, was agreed by the Westminster coalition in 2010 and was passed into law in 2013.
It is due to come into operation in April.
In Northern Ireland it will be enforced by the DVA, initially by manual checks and then by automatic number plate recognition cameras linked to a database.
Payment will be through a website.
Failure to pay the levy carries a fixed penalty of £300 or a maximum fine of £5,000 if the matter goes to court.
Two roads in Northern Ireland are exempt from the levy, because they straddle both sides of the Irish border:
Part of the A3, west of Clones, County Monaghan
The A37, which is a main through route between Dundalk in County Louth and Castleblaney in County Monaghan.
Ministers from Stormont and Dublin have lobbied the UK transport department to exempt the entire route of the A5, which runs between Londonderry and County Tyrone's border with County Monaghan
However, exempting such a large stretch of road could create difficulties with enforcement.