Antrim Road, Belfast, attack victim 'punched 16 times'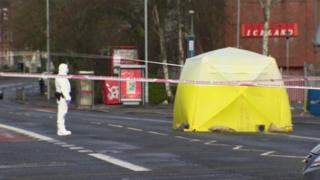 A man critically injured in an attack in north Belfast at the weekend was punched 16 times in the face in a matter of seconds, a court has heard.
Conor Lewsley's head was also stamped on as he lay on the ground, police said.
A detective claimed it was an unprovoked assault carried out by an assailant wearing only boxer shorts.
Ben Cullinan, 23, faces a charge of attempting to murder Mr Lewsley on the city's Antrim Road early on Sunday.
Mr Cullinan, of Glenville Park, Newtownabbey, appeared before Belfast Magistrates' Court on Tuesday.
He is further accused of assaulting another man in the same incident.
Alongside him in the dock was 31-year-old Seamus McGranaghan of Antrim Road in the city.
McGranaghan is charged with assault occasioning actual bodily harm to a third alleged victim.
Both men face further charges of cultivating cannabis and possessing Class B drugs with intent to supply.
Mr Lewsley, 24, remains in a critical condition after undergoing surgery at the Royal Victoria Hospital in Belfast.
The court heard that just before the attack he had called at Mr McGranaghan's home with three other young men.
A detective constable claimed they left after Mr Cullinan told them Mr McGranaghan was in bed sleeping.
Minutes later the two accused allegedly went out after the group.
'Sat astride victim'
It was claimed that CCTV footage of the incident, close to a PSNI station, showed Mr Cullinan hit Mr Lewsley before they both fell to the ground.
The detective said: "He (Mr Cullinan) then sits astride Mr Lewsley and strikes him 16 times in the face, continuously, very quickly, sustained and aggressive.
"Then he stands up and stamps on his head with full force and walks away."
"Mr Cullinan has been identified as the person who committed the assault. He was wearing boxer shorts only," the detective added.
Opposing bail, he claimed there was a danger to the public due to the unprovoked attack.
According to police Mr Cullinan declined to give an account during questioning.
During cross-examination a defence solicitor contended that minimal injuries were found on his client's hands.
He also claimed the CCTV footage was too grainy to establish whether Mr Cullinan had any footwear on at the time of the alleged attack.
The solicitor challenged the cannabis cultivation charge against Mr Cullinan, based on 16 plants allegedly being found in a bedroom of the co-accused's home.
But the detective told him the smell of drugs at the property was so overwhelming that anyone present must have known about them.
Mr Cullinan was refused bail due to the risk of re-offending.
He was remanded in custody along with Mr McGranaghan, who did not seek bail, to appear again in four weeks time.