John Downey case 'has implications for Northern Ireland devolution'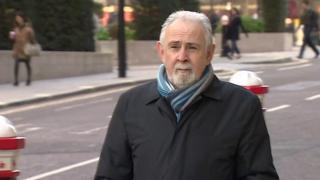 The abandonment of the IRA Hyde Park bomb prosecution has "very, very serious implications for Northern Ireland devolution", a Democratic Unionist MP has warned.
Nigel Dodds was speaking after the trial of John Downey collapsed.
It then emerged 187 people had received letters telling them they would not face prosecution for IRA crimes.
Mr Dodds said facts had been withheld from Northern Ireland's first minister and justice minister.
Addressing the House of Commons, he complained that an official's letter had "trumped due process of law in this country".
Mr Dodds said the case was very serious, "not just for the process of law and order but for the very stability and continued existence of devolution in Northern Ireland".
His colleague, Gregory Campbell said the DUP would not have gone into power sharing with Sinn Féin if they had known of the scheme.
"If we had been sitting across the table discussing the possibility of a new system of government and someone had said: 'By the way, here is an essential ingredient without which no deal can be done,' then we would have said, 'Then no deal can be done'," he said.
Secretary of State Theresa Villiers is to meet with DUP leader and Northern Ireland First Minister Peter Robinson on Wednesday evening.
She will meet Northern Ireland Justice Minister David Ford on Thursday. Mr Ford has said he was not aware of the scheme.
On Tuesday, Mr Robinson said the scheme on so-called on-the-runs had its origins in the 2001 Weston Park talks.
"At that time, though a smaller party, we warned the then unionist leadership that this type of deal was being concocted behind their back," Mr Robinson said.
"We suspected that [Tony] Blair and others in the NIO had made a dirty deal at that time with Sinn Féin."
The scheme was revealed after the collapse of Mr Downey's trial. The Donegal man denied killing four soldiers in the IRA attack.
The case collapsed because government officials mistakenly told him he was no longer a wanted man, which the victims' families have described as a "a monumental blunder".
Mr Downey's lawyer said his alleged offences had been categorised as one of the on-the-run cases that would no longer be pursued in the light of progress in the Northern Ireland peace process.
Prime Minister David Cameron told the Commons on Wednesday that Mr Downey should never have been sent the letter and that had been a "dreadful mistake".
Ms Villiers admitted that the fall-out from the case had made progress on the Northern Ireland talks chaired by US diplomat Richard Haass more difficult.
The talks - on parades, the past and flags - broke up without agreement in December.
"There was some very important work that has been going on in recent weeks between the party leaders; some real dedication to trying to find a way forward," she said.
"There is no doubt that finding that way forward will be more difficult now given the events of the last 24 hours, but I continue to encourage the parties to do so."
Ulster Unionist leader Mike Nesbitt said the party leaders' process which followed on from Haass "is now in crisis".
"We need clarity about who has these letters, and who knew. Sinn Féin sat at the talks with that knowledge. Who else knew?" he said.
'Pragmatic move'
Sinn Féin MLA Gerry Kelly said the letters were a pragmatic move and the agreement should not be rescinded.
"This was something which needed to be sorted out. A public commitment and, I repeat, a public and a political commitment was given to resolve that and this was one of the ways of resolving that," he said.
"They should stick to that, they should not try and unpick despite what the electioneering unionists are at now. They should not try and unpick what has been agreed."
Mr Kelly said he believed the most recent recipient of one of the letters had received it in late 2012.
'Catastrophic failure'
On Tuesday, a judge at the Old Bailey in London halted the case because Mr Downey had a letter from the Northern Ireland Office dated from 2007, assuring him that he would not face criminal charges even though police in Northern Ireland knew he was still wanted by Scotland Yard.
While police soon realised they had made a mistake, the assurance was never withdrawn.
The Crown Prosecution Service had argued that the assurance was given in error - but the judge said it amounted to a "catastrophic failure" that misled the defendant. A trial would therefore be an abuse of executive power.
Another 186 people received letters telling them they would not face arrest and prosecution for IRA crimes. The police and Northern Ireland Office officials are checking the rest of the cases for further errors.
The chairman of the Police Federation for Northern Ireland has said he is appalled at the government's "grubby secret deal".
Victims' families said they felt "devastatingly let down" by what they called "a monumental blunder".
NI Police Federation chairman Terry Spence said the news would shock the families of more than 200 murdered RUC officers whose killers were never caught. He said they seemed "certain to be denied justice because of a scheme negotiated by the Blair government".
Conservative MP Laurence Robertson, chair of the Northern Ireland Select Committee at Westminster and, in 2006, a shadow Northern Ireland minister, said he would ask the Northern Ireland secretary at that time, Peter Hain, who gave him the authority to bypass the true criminal justice system.
"What I'd like to see is some statement made in the House of Commons preferably by the attorney general," he said.
Speaking on BBC NI's Good Morning Ulster on Tuesday, Mr Hain said Sinn Féin submitted some 200 names and these were subject to a "painstaking process" that was overseen by the attorney general and lord chancellor and involved careful scrutiny by the police.
Mr Hain asked: "What was the alternative? There were 200 people left in a limbo, maybe waiting to be arrested, but not to face prosecution because the evidence was not sufficient.
"In the case of crimes for which individuals were suspected, the victims feel tortuously bitter about that and I understand that, I would as well. But it had to be dealt with. It was dealt with."
Northern Ireland's chief constable Matt Baggott said the Police Service of NI accepted the court's decision and full responsibility for the failures which resulted in this outcome.
The Police Ombudsman for Northern Ireland is to investigate the case.
The Hyde Park attack killed Squadron Quartermaster Corporal Roy Bright, Lieutenant Anthony Daly, Trooper Simon Tipper and Lance Corporal Jeffrey Young on 20 July 1982.
Mr Downey, 62, who was convicted of IRA membership in the 1970s, had denied murdering the soldiers and conspiring to cause an explosion.
He became Scotland Yard's prime suspect for the Hyde Park attack - but he was never extradited from the Republic of Ireland. He was described in court as a committed supporter of the Northern Ireland peace process.
In May 2013, he was arrested at Gatwick Airport while en route to Greece and charged with the murders and bomb attack. Mr Downey had travelled to the UK on four previous occasions since 2010.