Kevin Kingston: Fund could tackle problem business property loans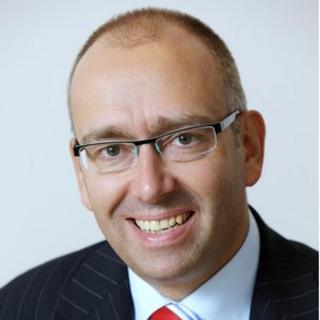 A senior banker has proposed that a new fund should be set up to tackle problem property loans held by NI businesses.
Many small and medium-sized firms took out property loans during the boom.
However, they are now finding that repaying those loans is weakening their core business.
Kevin Kingston of Danske Bank has suggested a dedicated fund could allow some businesses to refinance property debts and repay them over a longer timeframe.
He said that the existing, Invest NI-backed Growth Loan Fund could provide a model.
That fund has a total of £50m - half from Invest NI and half from the NI Civil Service pension fund.
Mr Kingston, head of corporate at Danske Bank, said a "mezzanine" loan fund could help tackle property issues.
Mezzanine loans are typically more flexible than traditional bank financing.
They can involve an element of equity investment or repayments that are concentrated at the end of the loan period.
They are also usually subordinated to other bank loans, meaning the main bank lender would get its money back first if the firm went bust.
'Longer-term approach'
The Growth Loan Fund is also a mezzanine fund and Mr Kingston said it has shown that such an arrangement can work in parallel with traditional bank lending.
He said it had "worked very well to date, with 60 commercial loans worth £18m approved in the past 18 months.
"A similar approach could be used to refinance residual property debt where it is holding back the growth of good local trading businesses."
Mr Kingston added that such a fund would enable firms "to take a longer-term approach to repaying and reducing legacy property debt".
Typically banks will make loans for periods of about three to five years but it is thought that the fund would have to make loans of 10 or 15 years.
Mr Kingston said that his proposal would not work in every instance, for example with firms that have very large property debts.
He said it would be most effectively targeted at business which "would probably make it anyway" but would otherwise find their cash flow being consumed by loan repayments rather than being targeted at growth.
Mr Kingston has suggested that the British Business Bank, which is run by the UK Department for Business, Innovation and Skills, could be a source of financing for a fund.