Ulster Bank recorded £1.5bn loss last year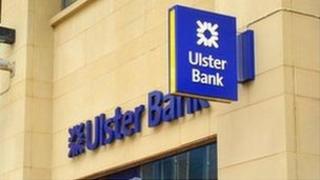 Ulster Bank has reported a loss of just under £1.5bn for 2013 which compares to a loss of £1bn in 2012.
It came as the bank's parent group, Royal Bank of Scotland (RBS), confirmed losses of more than £8bn for 2013.
Ulster Bank said its big loss reflected a one-off charge relating to bad property loans and that underlying performance was improving.
There had been a "significant decrease" in operating loss, impairments charges and mortgage arrears, it said.
The bank had an operating profit of £317m though that was wiped out by bad loan charges of almost £1.8bn.
The bank said about £1bn of those charges related to the establishment of an internal bad bank which will run off property loans over a three-year period.
Ulster Bank has also given details of the outcome of a review of its operations which has been aimed at finding "a sustainable business model".
The bank said it would become more customer-focused and agile.
Property crash
Ulster is the largest bank in Northern Ireland and the third biggest in the Republic of Ireland.
It suffered badly in the island-wide property crash and has been the worst-performing part of RBS in recent years.
In a statement, RBS chief executive Ross McEwen said Ulster Bank in Northern Ireland would become more closely integrated with RBS's main UK business.
He said there were "meaningful synergies in terms of investment, costs and customer experience from doing this".
"It is essential if we are to provide a more appealing and compelling service to our customers in Northern Ireland under the Ulster Bank brand," he said.
He said the bank was exploring "further opportunities" to transform its business in the Republic of Ireland with the aim of being a "compelling challenger" to AIB and Bank of Ireland.
Mr McEwen said the bank would finalise its plans in the coming months and emphasised it was about a change in business strategy, not a withdrawal from the market.
Mortgages
The Dublin-based part of the bank has faced greater problems than the Northern Ireland division.
It has had particular issues with domestic mortgages.
A much higher percentage of customers in the Republic of Ireland are having trouble repaying their mortgages compared to Northern Ireland.
It also has a very large number of customers on tracker mortgages, which are tied to the European Central Bank (ECB) base rate, often for the lifetime of the mortgage.
With the rate at historically low levels, and unlikely to increase soon, it has caused problems.
Trackers are mostly loss-making as the interest charged is less than the banks' cost of funding.