Adams says On the Runs 'were innocent' in #AskAdams Q&A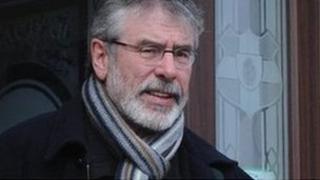 Gerry Adams has said on Twitter that all those sent On the Run letters were innocent.
The Sinn Féin leader was taking part in a question and answer session run by a newspaper.
He said the process, whereby republican suspects were told they were no longer wanted by police, was legally compliant and was not an amnesty.
There has been a political storm in Northern Ireland since the letters came to public attention earlier this week.
In response to a tweet from @belfastjj asking how many OTRs (On the Runs) were given letters, he wrote: '@belfastjj all those OTRs who got letters were innocent. the process isa legal 1<compliant with the law.It is not amnesty' [sic].
He was tweeting through the account of the Impartial Reporter newspaper in Fermanagh, which holds weekly question and answer sessions for its readers.
The Sinn Féin press office confirmed that Mr Adams' tweet was intended as written, and said that an individual not wanted by police should be understood to be innocent until proven guilty.
Mr Adams also told the son of a man who died in the 1987 Remembrance Day bomb in Enniskillen that he was sorry about the attack.
Thousands of questions came in on the #AskAdams hashtag, many of them making jokes or controversial political comments.
Mr Adams defended the idea of a united Ireland and said that if Peter Robinson were to resign over On the Runs letters, his resignation "would not solve anything".
He voiced support for the Haass proposals, saying they "point a way" to dealing with the past.
Debate
He also explained the meaning of his fáinne - a badge that shows the wearer speaks Irish - and said he was writing a book of short stories.
His only one-word answer - no - came in response to someone who asked whether it was time for Sinn Féin MPs to take their seats at the Westminster House of Commons.
The #AskAdams hashtag trended across the United Kingdom and was featured in the Huffington Post, in the Guardian and on BBC World Service radio programmes.
Rodney Edwards of the Impartial Reporter, who facilitated the question and answer session, said it was important to him to 'get a debate going'.
He said: "I was not told at the start what he would or would not answer. I looked for the quality questions that would obviously generate debate."