Aloysius Hackett murder trial: Dead parent 'would become guardian'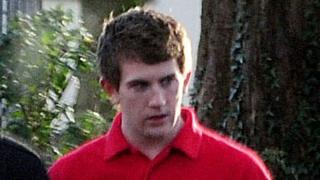 A County Tyrone teenager on trial for shooting dead his father, thought that by killing one of his parents they would become his guardian in heaven and resolve his unhappiness in life.
Dungannon Crown Court has heard Sean Hackett was suffering from diminished responsibility when he shot his father, Aloysius, in the head in January 2013.
Before the shooting, the teenager had split with his girlfriend and was thinking of dropping out of college.
Mr Hackett, from Augher, denies murder.
He has always admitted killing his father, but denies murdering him or possessing the hunting rifle used in the fatal shooting.
The court heard that in addition to breaking up with his girlfriend, the teenager was upset over the death of his grandfather and was also feeling the pressure of competing at a high level in Gaelic football at the time of the shooting.
The 19-year-old was heavily involved with the Gaelic Athletic Association (GAA), and is a former captain of the County Tyrone minors football team.
Aloysius Hackett was shot dead shortly after he returned home from a GAA meeting on 4 January last year.
The court heard that, in October 2012, the accused had tried to strangle his mother.
Despite talking to a counsellor, Sean Hackett began to form a plan that led to the fatal shooting of his father.
Consultant forensic clinical psychologist Dr Philip Pollock, who carried out an assessment of Sean Hackett, was called to give evidence at the trial.
In the months before the killing Dr Pollock said Sean Hackett had displayed symptoms of a major depressive disorder that was mildly to moderately severe.
He said he formed the idea that by killing one of his parents they would become his guardian in heaven looking down on him and providing a solution to his unhappiness.
On the day he shot his father he had twice tried to shoot his mother but had not been able to bring himself to do it.
He then lay in wait for his father, and after shooting at him three times, he held his father's hand, crying, apologising and saying prayers.
Dr Pollock said while Sean Hackett was capable of self-control, as evidenced by his decision not to shoot his mother, his ability to exercise any rational judgement was substantially impaired.
The doctor told the court there was a clear link between Sean Hackett's distress and depression and his irrational idea that the killing of one of his parents was the solution to his many problems in life.
Dr Pollock added that the abnormality the accused had suffered from was first recognised and diagnosed by psychologists as far back as the 1930s.
The pyschologist said that Mr Hackett's abnormality of mind also satisfied the necessary criteria under the Coroners' and Justice Act of 2009, which stated that where a person was suffering such an abnormality, they would not be convicted of murder.
The jury at Dungannon Crown Court was told that Sean Hackett himself would not be giving evidence.
The trial is expected to last up to two weeks.