Gerry Kelly drops law suit over police Land Rover incident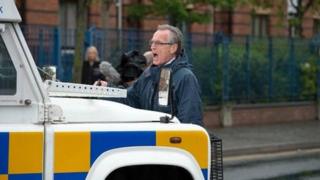 Sinn Féin's Gerry Kelly has withdrawn his lawsuit against the police over an incident where he was carried on the bonnet of a PSNI Land Rover in Belfast.
The incident, in Carrick Hill in the north of the city last June, followed the loyalist Tour of the North parade.
Mr Kelly had started legal proceedings in a civil case against the PSNI Chief Constable Matt Baggott.
However, he has now changed his mind, saying the issuing of a civil writ had "increased local political tension".
Formal reprimand
At the time of the incident, the Sinn Féin MLA said he tried to stop the Land Rover in order to speak to officers who had arrested a 16-year-old boy, but he claimed the officer drove off, with Mr Kelly clinging to the front of the PSNI vehicle.
Unionist politicians criticised Mr Kelly for obstructing a police vehicle and called for officers to investigate his conduct.
Both Mr Kelly and a police officer have since accepted an "informed warning", a type of formal reprimand, for their part in the incident.
A person refusing to accept an "informed warning" can be prosecuted.
Mr Kelly accepted his reprimand in January, but three days ago Sinn Féin confirmed he was taking a civil case against Mr Baggott.
'Unwanted diversion'
However, on Thursday, the North Belfast MLA said the incident had "unfortunately split opinion into two camps of unionist versus nationalist alongside elements in the media reducing the issue to one of money".
"Issuing the writ seems to have increased local political tension and created an unwanted diversion from more pressing issues. So, in this instance I have decided not to pursue the case."
Mr Kelly added that he had initiated the case because it was the fourth time he had been injured by police officers since he became an elected representative.