Special needs teachers raise issues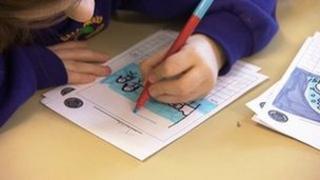 Teachers of children with special needs must have better resources and training, according to two unions.
About 300 teachers were surveyed by the Irish National Teachers Organisation and the Ulster Teachers Union.
Almost half of them said they were under-resourced and a third said the situation was getting worse.
A third felt training was inadequate, and a similar number said they did not have adequate access to an educational psychology service for pupils.
About 25% felt strongly that any available support from advisors was unhelpful.
Avril Hall Callaghan of the UTU said the findings "reveal a deteriorating trail of under-resourcing and neglect".
She added: "How can parents have confidence in a resource-starved system with which teachers are struggling to work?"
Gerry Murphy of the INTO said: "The situation regarding training for teachers will remain in stalemate until the long-awaited Education and Skills Authority comes into being.
"Professional development as formerly provided by the Education and Library Boards is no longer available at the levels required."