Mairead McCallion murder: Partner Noel Knox in court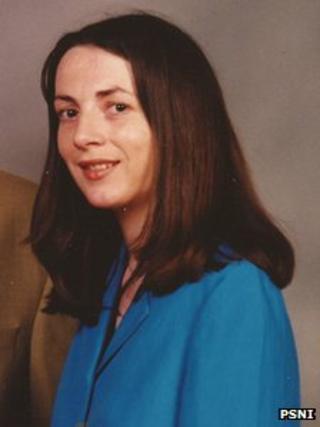 A 50-year-old man has appeared in court charged with the murder of his partner.
Mairead McCallion, 36, who was from the Omagh area, was found with head injuries at a house in Castleview Court in the town on Sunday morning.
She died in hospital the following day.
Noel Knox, from Knockshee Park, Omagh, appeared in the dock at Omagh Magistrates' Court. A solicitor told the court he denied murdering his partner.
A detective inspector told the court that police were called to Castleview Court on Sunday morning by the defendant who wanted two people removed from his brother's house.
He said that upon arrival officers witnessed Ms McCallion outside the address in her socks alleging the defendant had assaulted her by grabbing her and hitting her head off a wall before throwing her into the garden.
At that point the accused was arrested on suspicion of common assault.
Ms McCallion was taken to Enniskillen police station for a forensic medical exam before being taken to another address.
It was then that her condition rapidly deteriorated and she was taken by ambulance to the hospital where she later died.
A post mortem examination concluded that she died of a head injury.
Under questioning, the detective inspector revealed that the "defendant denied he ever assaulted Mairead McCallion".
Under questioning from a defence solicitor he said that "Ms McCallion has made complaints against the defendant previously, but she has always withdrawn these complaints".
A defence solicitor also told the court that Mr Knox wanted to express his sincere condolences to Ms McCallion's family.
In making a bail application, he added that his client had fully cooperated with police and would adhere to any bail applications which might be imposed by the court.
"Mr Knox is someone who has lived in Omagh all his life and is the primary carer for his brother who is in the later stages of multiple sclerosis (MS)," he said.
District Judge Nigel Broderick refused bail due to the risk of re-offending, the lack of a suitable address and the potential interference with witnesses who have still to be interviewed by police.
The accused was remanded in custody to appear in court via video link on 25 March.