Energy costs: Do more to help big businesses, say MLAs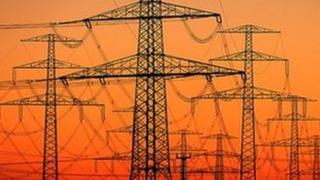 A report by MLAs has said more needs to be done to reduce the energy costs of big businesses in Northern Ireland.
However, the enterprise committee report said that should not be at the expense of domestic customers.
Large companies in Northern Ireland pay the second highest electricity costs in Europe.
The report said this is largely down to the way in which network costs are apportioned between the companies and other users, like domestic customers.
It added that the costs to big firms were potentially harming their expansion and job creation prospects.
The MLAs said work should be undertaken to reduce their bills.
But it cautioned against reapportioning costs by having "hard-pressed domestic consumers pay more for electricity".
"Northern Ireland has amongst the highest rates of fuel poverty in the UK and the committee would not support any changes which could result in an increase in this level," said the report.
The report made a series of recommendations, including greater transparency on costs relating to the generation of electricity by the likes of power stations such as Kilroot in County Antrim.