Easter Rising: Eoin MacNeill's 'stop' order is auctioned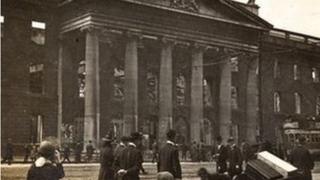 A handwritten order intended to stop the 1916 Easter Rising in Ireland is to be auctioned in Dublin in April.
It was issued by Eoin MacNeill, the commander of the Irish Volunteers, in a late-minute attempt to stop the armed rebellion against British rule in Ireland.
"Volunteers completely deceived. All orders for tomorrow, Sunday, are completely cancelled," the order reads.
The Rising had been due to take place on Easter Sunday 1916, but was then delayed until Monday.
It failed and many of the leaders were arrested and executed.
The document has been described as "of the highest significance and rarity" and is the only known copy in private ownership.
Kieran O'Boyle, auctioneer and valuer at Adam's of St Stephen's Green, Dublin, said the document had "changed the immediate course of Irish history to a significant degree" and, "with the exception of the Proclamation itself, it is probably the most important and influential document of the period of the Rising".
It is expected to sell for between 30,000 (£24,681) and 50,000 (£41,135) euros. Mr O'Boyle said a copy of the Proclamation had been sold by Adam's last year for 96,000 euros (£78,985).
The Irish Volunteers had been planning to hold peaceful manoeuvres on Easter Sunday 1916. However, MacNeill found out that a group in the organisation, led by Padraig Pearse, had secret plans for an armed rising against the British.
He tried to countermand this and the result was chaos and confusion, especially in areas remote from Dublin, where local commanders could not establish what was going on.
Consequently, there was no rising in Cork or Limerick.
In Dublin, the group led by Pearse, James Connolly and Tom Clarke delayed by 24 hours and struck on Easter Monday with whatever forces they could muster.
Shane MacThomais, historian at Glasnevin Cemetery and Museum, said the order "is a key piece of Irish history".
He said the Irish government should be stepping in to buy such important documents so that they can be put on public display for all to see.
"Historically this was a very significant document," he said.
"It had a huge effect on the rising. It was estimated that up to 10,000 were to take part but all they could muster was 2,000 and only in Dublin.
"Eoin MacNeill was criticised hugely for it.
"It caused massive confusion in the ranks. It would be like today, one message coming from the president and another from Taoiseach. Lots of fellows and women did not come out.
"MacNeill was a professor and a letter from him carried huge weight.
"If that order had not gone out, what would have been the outcome for the Rising?"
The order is due to be sold in Dublin on 15 April.