Ballymurphy Army killings: Family call to exhume Joseph Murphy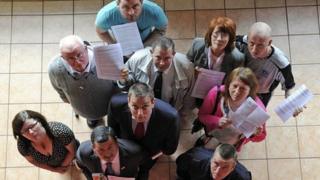 The family of one of 10 people shot dead by soldiers in Ballymurphy in 1971 has applied to a coroner to have the body exhumed.
Joseph Murphy was one of those who died over three days in west Belfast in shootings involving the Parachute Regiment.
On Monday, his family applied to Belfast's Coroners Court for permission to exhume his body.
They said documentation from the time did not accurately record his injuries.
The family believe that Mr Murphy, who survived for 13 days after being shot, may have been shot a second time while in custody inside an army barracks.
A priest and a mother of eight were among the civilians shot dead by the soldiers.
An 11th person who is not covered by the inquest proceedings died of a heart attack after a confrontation involving soldiers.
The families are campaigning for an independent investigation into the deaths of their loved ones.
Last year, the families said they wanted former police ombudsman Nuala O'Loan to chair an independent panel. Its remit would include examining all documents and papers relating to the deaths.
The seven-strong panel would also include Prof Phil Scraton, author of the independent Hillsborough report into the deaths of 96 football fans in 1989, and civil rights lawyer Gareth Pierce.
The relatives said the panel should report within 12-18 months, and should be funded by the British and Irish governments.
Its work would reflect the terms of reference of the government-funded Hillsborough Independent Panel. The group also wants an apology from the government.
The Ballymurphy shootings took place hours after the government introduced a policy of internment - the detention of paramilitary suspects without charge or trial.
The Parachute Regiment was involved in an operation in Ballymurphy to arrest people suspected of paramilitary activity.
The troops said they opened fire after they were shot at by republicans.
The priest, Fr Hugh Mullan, was shot as he went to the aid of a wounded man.
In June 2012, the former Northern Ireland secretary, Owen Paterson, turned down the campaigners' request for an inquiry.
The families said Mr Paterson told them it was "not in the public interest".