Omar Qaradhi: Jordanian Paralympic athlete pleads guilty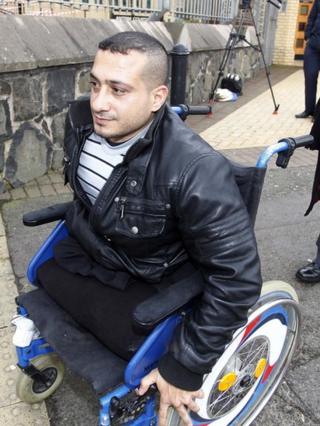 A Jordanian Paralympic athlete has pleaded guilty to sexually assaulting a woman and two girls in Northern Ireland.
On Monday, Omar Qaradhi, 33, pleaded not guilty but changed his plea on Tuesday at Antrim Crown Court.
The powerlifter admitted three sexual assaults while at a training base at the Antrim Forum in the run-up to the London Paralympics in 2012.
Qaradhi received a 12-month sentence, suspended for two years.
Terrible disability
A prosecution barrister described three separate incidents.
In two of them, Qaradhi had touched girls both aged 14 after persuading them to have their pictures taken with him.
A third incident happened during a physio session when he touched a therapist.
A doctor for the Jordanian Paralympic team told defence lawyers Qaradhi had been born into poverty with a terrible disability.
He had moved around at home with his hands and had to leave school at a young age to earn money after his father died, the doctor said
After getting involved with sport in his early 20s, he had become a world record-holder for powerlifting.
The court was told Qaradhi was at the top of his sport and would have almost certainly won a gold medal in the London games.
He would have received US$70,000 (£42,000) upon his return home and would have been able to improve his circumstances, the doctor said.
A defence lawyer said "a lifetime of achievement had been put at naught" because of what happened in Antrim.
He said his client offered a "complete and unqualified" apology to the victims for the indignity, distress and hurt he had caused them.