Northern Ireland nuclear bread plan revealed in PRONI document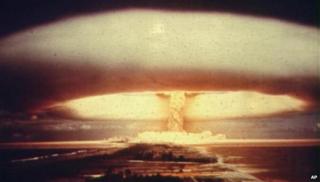 Cold War plans to ensure Northern Ireland's supply of bread if a nuclear bomb was dropped on Belfast have been revealed in a declassified document.
The Northern Ireland Emergency Bread Exercise report, dated February 1954, looked at how bread would be baked and distributed in the event of an atomic bomb attack.
It was less than nine years after atomic bombs had devastated Hiroshima and Nagasaki at the end of World War Two, and with tensions rising between east and west, the baking trade wanted to survive any possible apocalypse.
'Disturbingly naive'
The document was discovered among records kept by the United Co-operative Baking Society, and it can be viewed at the Public Records Office's (PRONI) collection at its headquarters in the city's Titanic Quarter.
Alan Robertson of PRONI said the document "illustrates the disturbingly naive attitude to the impact of such a devastating attack, and the optimism prevalent at this early stage of the Cold War".
The scenario outlines what would have happened if a nuclear bomb dropped on the now-demolished York Road railway station in north Belfast at noon on 8 September 1953.
It looks at what would happen within an inner area of a six-mile radius around the railway station.
"The daytime population of the inner zone, including workers and shoppers, was estimated to be about 360,000, after evacuation of priority classes," it said.
"This inner zone is not to be confused with the usual circles of damage applied to the fall of an atomic bomb."
During the exercise, key staff imagined they were meeting four hours after the attack at Hillsborough, County Down, which is 14 miles away.
It lists 12 bakeries and seven flour mills within a six-mile radius of the explosion that would be destroyed or so severely damaged that all production would be lost.
"The demand for bread by the survivors from the inner zone, including the homeless, is twice the normal during the 36 hours following the attack, and 25% above normal during the subsequent two days," the report says.
An "emergency yeast officer" would be appointed to oversee distribution, working in conjunction with the "regional bread officer".
Thirty miles from ground zero, a mobile bakery unit would be set up in Castlewellan, County Down.
PRONI director Maggie Smith said the report was "one of many unusual documents" in its archive.
"The Northern Ireland Emergency Bread Exercise demonstrates forward planning and creativity," she said.