FSA investigating County Armagh 'illegal meat' operation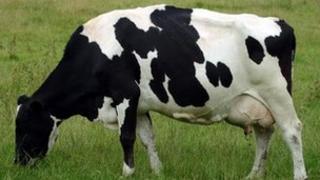 The Food Standards Agency (FSA) is investigating a suspected illegal animal slaughter and meat operation in County Armagh to establish if there is any risk to public health, the health minister has said.
Edwin Poots said there was no evidence the meat had entered the food chain.
He told the assembly a live investigation was taking place.
The operation was discovered on Monday, following searches at two properties in the village of Forkhill.
A third search was also carried out in Bessbrook, County Armagh, but police said no illegal activity was discovered at that location.
Mr Poots was responding to an urgent assembly question asked by the UUP's Roy Beggs.
The health minister said if the investigation concluded the meat had entered the food chain, full risk management procedures would be implemented by the FSA.
Aside from removing it, he said the best way to deal with this would be for anyone who had purchased the meat to cook it well.
Perspective
Mr Poots urged people to buy their meat from an approved source "as opposed to out the back of a van".
He said people needed to keep some perspective on the situation.
"I think we should all calm down a little, this is not a large scale operation in the first instance and we shouldn't be blowing this out of proportion that it's something which is common practice, whenever there isn't evidence that it is," he added.
The multi-agency operation into the illegal animal slaughter and meat operation is being led by the PSNI, and supported by the Department of Agriculture, the FSA, and Newry and Mourne District Council.
Responsibility for the investigation of suspected illegal slaughtering premises lies with district councils
Newry and Mourne District Council said in a statement on Tuesday that evidence of recently slaughtered animals was found at the agricultural buildings.
"There is no evidence at this stage of the investigation that meat from these premises has been placed on the market," the statement said.
"Investigations are ongoing to determine the supply chain of meat from this unapproved establishment.
"At this stage of the investigation there is no indication that meat has been supplied illegally to the premises in Bessbrook and no meat has been seized or detained at this premises.
"DARD found evidence of possible offences and are continuing with their investigations."