AIB reports reduced loss of 1.7bn euros for 2013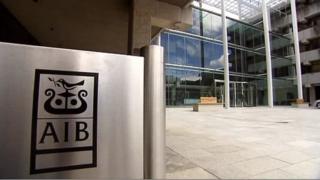 Allied Irish Bank (AIB), the parent company of First Trust bank, made a 1.7bn euros (£1.4bn) loss in 2013.
The result is a 2bn euros (£1.6bn) improvement its 2012 performance.
AIB remains owned by the Irish government following the 2008 banking crisis.
The bank's UK division, which is dominated by First Trust, showed an £80m loss, compared to a £133m loss in 2012.
Chairman David Hodgkinson said AIB had made "solid progress" over the past 12 months in rebuilding customers' trust and "restoring the bank to better financial health".
Mr Hodgkinson added that his company was "playing a robust role in the recovery of the Irish economy".
"Stabilisation of the bank is now well advanced and we look forward to a return to profitability before tax during 2014.
"It has not been an easy journey for any stakeholder in AIB and while the path ahead is more encouraging, a number of challenges remain, for the bank and the wider Irish economy," the chairman said.
AIB is the last of the four major banks that operate in Northern Ireland - known locally as the big four - to report its annual results.