European election: DUP decides against second candidate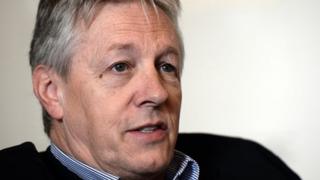 The Democratic Unionist Party (DUP) is expected to field just one candidate in May's European election.
The party had been considering running a second candidate alongside MEP Diane Dodds.
Party leader Peter Robinson said fielding two candidates was tempting in the interests of party advantage.
But he said there was a danger the unionist vote could have been so fragmented a second nationalist could have been elected instead.
And he claimed that as leader of the largest unionist party he had a responsibility not just to the DUP but to unionism as a whole.
In a speech to his party's East Londonderry Association on Friday night, Mr Robinson said the argument for running one or two candidates had been finely balanced.
'Responsibility'
"There are those who make the case that we have nothing to lose by running two candidates and everything to gain," he told party members.
"They point to the weakness of our unionist opponents and the real opportunity that exists if we were to maximise our vote and balance it appropriately to win the second seat.
"I understand those arguments and I respect them. However, as leader of the largest unionist party, I believe that I have a responsibility not just to the DUP but to unionism as a whole.
"This party demonstrated its willingness to put the broader unionist cause ahead of narrow party considerations in the 1970s and 1980s, and we are prepared to do so again."
The first minister added: "For me the issue is not just what is best for the DUP but what is best for unionism as a whole.
"There is an argument that only a second DUP candidate can secure a second seat for unionism, but I am concerned by the proliferation of unionist candidates that may shred not only the first preference, but the second and third preference votes as well.
'Fortified'
"There is a real danger that in a crowded field a second non-unionist candidate could be returned on the basis of a strong nationalist turnout, and transfers from Sinn Féin.
"It is because of the importance of maintaining the maximum unionist representation in Europe that the DUP officers will be recommending that the party field only one candidate.
"This is not because it was impossible that we could secure two seats (though it would have been difficult), but because on balance we believe that an additional unionist candidate in the race would have increased the chances, to a dangerous level, of a second non-unionist candidate being elected.
"In light of the events of the last 18 months we believe that it is important that unionism is fortified during this election cycle.
"Make no mistake, the case for running a second DUP candidate in the European elections was a credible one."
The European election will be held on 22 May. Ulster Unionist Jim Nicholson and Sinn Féin's Martina Anderson are Northern Ireland's other MEPs.