Larne: Second attack on same house within a week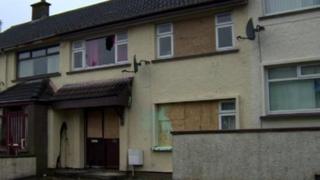 Three people have escaped injury during an overnight attack on a house in Larne, County Antrim.
Four windows were smashed at the front of the house in Greenland Parade at about 03:00 GMT. Paint was also thrown over the front of it.
Two women and a man who were in the house at the time were not hurt.
It is understood the same house was attacked by a masked gang who were armed with baseball bats and a hammer last weekend.
The gang of three men damaged the front door and a window at the property on Saturday 1 March.
Police have not commented on a motive for the Greenland Parade attacks.
Sinn Féin MLA Oliver McMullan said: "Police have got to get on top of this. This kind of attack is not uncommon in Larne. The violence in Larne has been down played and the amount of criminality has been played down."