Haass talks: Ulster Unionists want supergrass cases to end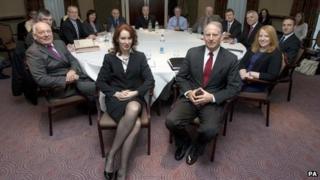 The Ulster Unionist Party has said it wants the resources currently devoted to so-called "supergrass" cases to end.
The party also wants all the cases of republican On The Runs who have received letters from the government to be re-opened and re-examined.
The ideas are in the party's alternative proposals to the Haass talks blueprint.
The Ulster Unionists have already made it clear they regard the Haass process as over.
The party will not attend any more leaders' meetings dealing with the Haass proposals.
Negotiations chaired by Dr Richard Haass and Prof Meghan O'Sullivan broke up on 31 December without reaching consensus on their final blueprint.
The talks focused on the issue of flags, parades and the past.
Now, in a 17-page document, the UUP has outlined a series of alternative ideas.
On flags, it wants all government and council buildings to fly the union flag at least on designated days and on more occasions if there is political support.
On parades, the party backs a voluntary rather than a compulsory code of conduct.
The Ulster Unionists strongly criticise the Haass proposal for a new historical investigations unit which they view as an expensive unaccountable parallel police force.
They want the controversial On The Run letters rescinded and the cases reopened, but they also argue that recent supergrass cases - which have caused consternation in loyalist circles - have been characterised by unreliable testimony and represent a waste of legal resources.
Party leader Mike Nesbitt said: "We pulled out two Fridays ago, we've been working on our own proposals for some time.
"I don't think it is good politics to just say 'we are pulling out because we don't like what's happening'.
"If you're going to pull out because you don't like what's happening, say that's because we have a better set of ideas and these our ideas."