Kelly Gallagher 'delighted' to Britain's first ever Winter Paralympic gold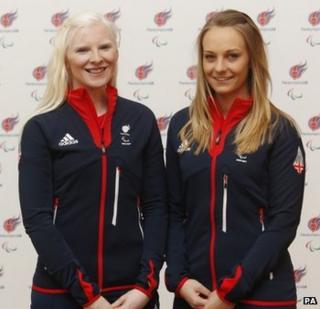 County Down skier Kelly Gallagher has said she was "delighted" to win Britain's first ever Winter Paralympic gold with victory in the visually impaired super-G in Sochi.
Kelly and her guide Charlotte Evans, clocked one minute 28.72 seconds on the Rosa Khutor course.
She said it had been a "hard journey".
"I can't underestimate how difficult this has been for both Charlotte and I, we've been through so much together," she said.
"It definitely hasn't sunk in yet. I'm so delighted to be able to have something to show for it, for all the hard work, it's great."
She started skiing for the first time when she was 17 and began working with Charlotte Evans in late 2010.
The Bangor woman said she was nervous before her race after a "poor run" during practice a few days previously.
"We really worked hard to get ourselves motivated again and excited and to try and have some fun today," she said.
"It was pretty bumpy and then coming down in the middle of it, Charlotte was telling me to get in attack and I wasn't listening to her.
"It definitely shows how much I need to rely on Charlotte and how amazing that she's been to guide me to gold because I wouldn't have been able to do it without her help."
Charlotte said she wanted Kelly to get the best time she could possibly get.
"To be honest, it's pretty scary down there and she did the best she could and I was certainly trying to get more out of her," she said.
Since teaming up in 2010, the pair have won silver and bronze medals in the 2011 and 2013 World Championships as well as World Cup honours.
Charlotte explained how they worked as a team.
"On the run I have to make sure that I give the best feedback and what I'm feeling under foot and what is coming up so that Kelly is prepared and ready for the next part of the course," she said.
"It's my job to keep her confident and to make sure that she is going as fast as she possibly can."
Kelly said she relies on Charlotte to be her eyes and ears.
"I don't really see anything, it's all pretty white with the snow," she said.
"Charlotte wears a fluorescent orange bib, I basically just follow that . The closer I can be to her the more I can kind of see of her body position and how she is coming over, the different types of lumps and bumps in the snow, so basically I'm just following the orange bib and listening to her feedback.
"I just feel it through my feet and the snow is so changeable here.
"On the very top where there is a bigger elevation, the snow is nice and hard, it changes even on the course, so as you start off it's hard and it gets a bit more slushy and snow coming down the bottom."
After her win, the young athlete has little time to enjoy her win, with three more events to come at the Sochi Paralympic Winter Games, her attention is already focused on her next race.
Gallagher and Evans will be in action again in Tuesday's super combined event.
So, is she confident of another win?
"Who knows, we just have to go out there every day and try our best and we'll see what happens," she said.