BBC Spotlight investigation reveals NI housing fraud
Homeless families in Northern Ireland are being denied a place to live because of benefit cheats, a BBC Spotlight investigation has discovered.
It has found that thousands of houses are being sublet illegally by fraudsters, or used as so-called "dole drop" addresses to access benefits.
Many of the properties are lying empty, at a time when 40,000 NI households are on the social housing waiting list.
About 10,000 families in NI are officially listed as homeless.
The auditor general for Northern Ireland, Kieran Donnelly, examined the issue of tenancy fraud last year and said it is a major problem that is not being addressed.
"It seemed to us that it wasn't on the radar. Tenancy fraud wasn't coming up on the agendas of board meetings of the Housing Executive or housing associations.
"No cases were being reported to me. Yet, we knew from the work the Audit Commission was doing in England and Wales that there was a huge problem in this area," Mr Donnelly said.
'Never shirked'
BBC Spotlight reporter Enda McClafferty said: "Tenancy fraud is the biggest council fraud in England and Wales costing £1.8bn, yet officially it didn't exist here.
"There has never been a single case of tenancy fraud reported in Northern Ireland, in other words 'dole drops' didn't exist. We challenge the Housing Executive on why it has only now come up with a plan to deal with a fraud which has been around for decades."
The Northern Ireland Housing Executive (NIHE) told BBC Spotlight that tenancy fraud was a priority and they had a strategy to deal with it.
One of its directors, Gerry Flynn, said his organisation has "never shirked its responsibility" and has "always been at the forefront of trying to do the right thing".
A family from Castlerock who have moved 13 times in the past 12 years tell the programme they are desperate to find a permanent home and need to move again next month.
Darran Keenan said: "I've been in begging. I've even been round farmhouses begging farmers to let me live in their old abandoned houses just to have a home for my family.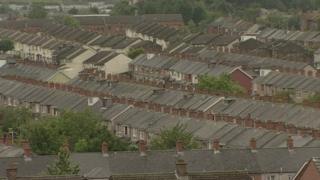 "I never thought that this would be where we end up 12 years ago, you know, still in the same position and still private renting and moving from house to house."
The BBC Spotlight investigation also reveals how Northern Ireland's private landlords are cashing in on the housing shortage.
It found that 60% of all private rented properties in Northern Ireland are being paid for by the taxpayer through housing benefit - amounting to a bill of £250m a year - compared to 25% in England.
The programme hears from one mother whose family of six live in a house with no heat and extensive damp, for which the landlord is getting £600 a month.
The programme has also discovered that some 1,800 people have been given new homes in the past five years because they claimed they were threatened by paramilitaries.
In two cases in County Londonderry, dissident republicans were allocated new homes after claiming they were under threat, but unlike other cases, they did not go to the police.
Staff at Rosemount Resource Centre in Derry were asked to help verify the threats.
The manager of the Rosemount Resource Centre, Thomas McCourt, was asked if the system could be abused by other
"I am not saying that there mightn't be people out there who might think 'this is a good idea, this might get me a house'," Mr McCourt said.
"We are not naive enough to believe that nobody would do a thing like that, but if you are asking is it some sort of a scam as in organised process, which is recognisable and which is used to get people houses, it is not."
However, Gregory Campbell from the Democratic Unionist Party (DUP) said the dissident republican cases raised serious questions about the process.
"You can imagine law abiding, hard pressed, top-of-the-waiting-list applicants saying, 'well why should I go through all the normal protocols that are open to everyone else and a small number of people can bypass all of this? And if they fabricate an intimidation case, they can be allocated a property that I should have'.
"I can understand the outrage and anger that would exist amongst people like that," Mr Campbell said.
BBC Spotlight Housing Fraud: Hidden Scandal will be broadcast on BBC One Northern Ireland on Tuesday 11 March at 22:35 GMT.