NI exams to stay largely unchanged, says John O'Dowd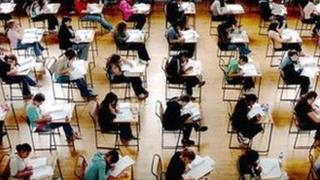 GCSE and A level exams in Northern Ireland are to remain largely unchanged.
Education Minister John O'Dowd's decision comes as England and Wales make dramatic changes to the way they conduct their exams.
Previously, all three regions had adopted exactly the same format for the exams.
The Northern Ireland exams will continue to be a mix of modular and linear testing.
It means that NI school principals will have the choice of testing after each module or at the end of two-year courses.
England is switching to a linear system (main exams after two years' study), while Wales is changing to all modular (testing done in sections during the two years).
Mr O'Dowd announced his decision to stick with the present arrangements after commissioning two reports.
One change
The current grading system of A*-G will be retained in Northern Ireland, rather than alternative bands from 1-9 as proposed in England.
AS levels, which make up the first year of A levels, will also be maintained.
Mr O'Dowd has insisted on one change at GCSE level.
Any exam in English must include speaking and listening assessment, which some English boards have dropped.
Pupils in Northern Ireland will not be able to do a GCSE exam that omits that element.
Mr O'Dowd said there was an "open market" for English exam boards to offer assessments in Northern Ireland, and does not believe his decision will inhibit pupils from applying to study at English universities.
He told the assembly: "What I want to ensure is that those awarding bodies that are currently operating within our system... that the qualifications they are setting do not corrupt our curriculum, and that the qualifications they are setting are not driven by their commercial needs in the sense that they are operating to a larger market in England than they are operating here."
The computer-based assessment tests used in primary schools are to remain voluntary for the time being.