On the Runs: Lady Justice Hallett to head review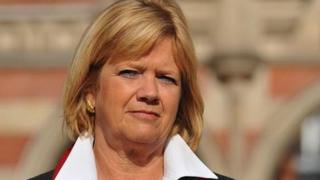 Lady Justice Hallett has been appointed to conduct an independent review of the administrative scheme for dealing with On the Runs.
The review was commissioned in the wake of the collapse of John Downey's trial.
He was suspected of the 1982 IRA murder of four soldiers in Hyde Park and had received a letter from the government saying he was not wanted by police.
Lady Hallett will report to Northern Ireland Secretary of State Theresa Villiers by the end of May.
She is the fifth woman to sit as judge in the Court of Appeal.
In 2009 she was chosen to act as coroner in the inquest into the deaths of 52 people in the London bombings of 7 July 2005.
She was called to the Bar in 1972 and became a QC in 1989.
She went on in 1998 to become the first woman to chair the Bar Council. She was made a High Court Judge in 1999 and has served on the Court of Appeal since 2005.
Prime Minister David Cameron ordered the judge-led inquiry last month after Northern Ireland's First Minister, Peter Robinson, had threatened to resign over the issue of On the Runs.
The On the Runs were:
Anyone suspected of, but not charged with, paramilitary offences committed before the Good Friday Agreement of 1998.
Those who had been charged with offences but who had escaped.
Those who had been convicted of offences but who escaped.
Meanwhile, Westminster's Northern Ireland affairs committee has detailed the terms of reference for its inquiry into the administrative scheme for On the Runs.
The committee wants to examine the background to, and origins of, the scheme, and what was its purpose and intended effect.
It will also examine who constitutes an On the Run, and what the legal implications of the scheme are.
The committee also wants to examine the political implications of the scheme and investigate if errors were made.
The inquiry, which will hold evidence sessions in public, will also examine the impact the scheme has had on victims and relatives.