Alistair Finlay appointed PSNI interim deputy chief constable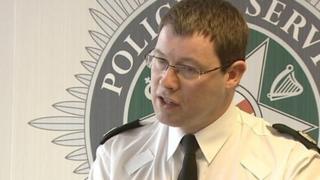 A Scottish-born senior Police Service of Northern Ireland (PSNI) officer has been appointed interim deputy chief constable.
Alistair Finlay will replace Judith Gillespie when she retires at the end of this month.
Mr Finlay joined the PSNI as an assistant chief constable in 2006.
In 2010 he was criticised by unionist and nationalist politicians after accusing them of not doing enough to reduce marching season tensions.
A police officer since 1982, Mr Finlay was responsible for co-ordinating the huge policing operation for the G8 summit last July.
He was appointed as interim deputy chief constable after indicating that he will not apply for the job on a full-time basis, as it was felt that any temporary appointee would have had an unfair advantage.
Eligible
The Policing Board has said it hopes to have a new deputy in place before the end of August.
With Mr Finlay out of the running, the front-runners for the post are his fellow assistant chief constables, Will Kerr and Drew Harris.
Another member of the command team, ACC George Hamilton, is the only PSNI officer eligible to apply to replace Matt Baggott as chief constable.
Mr Baggott is to retire when his contract ends in September.
Justice Minister David Ford failed in an attempt to widen the internal PSNI pool for Mr Baggott's job by abolishing a rule stating that candidates must have served at the rank of assistant chief constable or equivalent outside Northern Ireland for two years or more.
The Policing Board has said it hopes to have a new chief constable in place before the end of June.
The successful candidate will then have an advisory role in the appointment of their deputy.